With star middle linebacker Brian Urlacher set to become a free agent this offseason, the face of the franchise's future with the Bears is uncertain.
It's unclear whether Urlacher will re-sign with the only team he's played for during an illustrious 13-year NFL career, and it isn't something the Bears will publicly comment on.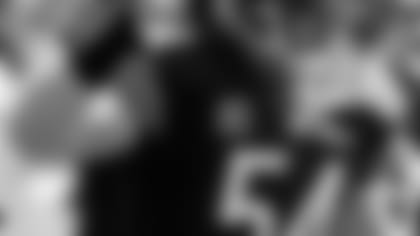 Brian Urlacher has been voted to eight Pro Bowls in 13 seasons with the Bears.
"I will tell you that any of the contract situations I'm not going to speak on," general manager Phil Emery said last week. "To me, that's a privacy issue between the player and the team and those types of discussions will happen with Brian and his agents, and that's where we'll leave it."
Urlacher has been voted to eight Pro Bowls since being selected by the Bears with the ninth overall pick in the 2000 draft out of New Mexico. He was named NFL defensive player of the year in 2005 and helped the Bears reach the Super Bowl in 2006 for the first time in 21 years.
Urlacher got off to a slow start in 2012 after sitting out the entire offseason program and preseason with a knee injury. He improved throughout the season and led the Bears in tackles when he suffered a hamstring injury Dec. 2 against the Seahawks that forced him to miss the final four games.
"Coming back from the injury, there was a time where he looked a little rusty, and I think he admitted that himself in public," Emery said. "There was a time that he got better, that he got his feet back under him. He showed in the Seattle game that he still has a burst. He chased [rookie quarterback] Russell Wilson up the sideline and was the only one to get to him.
"Certainly he has shown that burst in the center of the field. In our Tampa-two system he had to turn and get deep. From my own eyes I never saw that to be an issue with Brian in terms of this year him being able to do that.
"There were times because of the injury that he his ability to stop, re-gather himself and redirect laterally was not there. But it did get there as the season progressed, and just about as he was able to turn the corner he had the injury that ended his season. So, did he make progress? Yes, he did."
Emery knows that it would be tough for the Bears to move on without Urlacher.
"The things that are very difficult to replace and would be to replace if we were to move in any other direction is the leadership that he has and the knowledge base that he has of our system," Emery said.
After the Bears hire a head coach, they will have other important decisions to make; Urlacher is among 18 players who are due to become unrestricted free agents.
Some of the others include quarterback Jason Campbell, cornerback Kelvin Hayden, defensive lineman Israel Idonije, guard Lance Louis, defensive tackle Henry Melton, linebacker Nick Roach, tackle Jonathan Scott and guard Chris Spencer.