No Bears player took more "mental reps" in training camp than quarterback David Fales, who didn't practice until the team's final day in Bourbonnais due to an undisclosed illness.
"It's hard to go out there and do it sometimes," Fales said Thursday night after leading the Bears to a 24-0 win over the Cleveland Browns in the preseason finale at Soldier Field.
"It's easy to understand what's going on. But getting under center and seeing it when you're behind the line and guys are coming at you, it's different."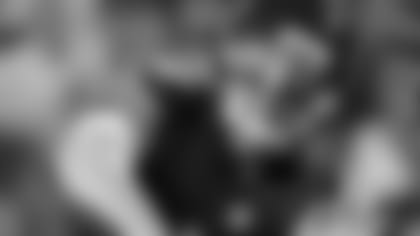 David Fales passed for 131 yards and two touchdowns.
Fales made it look fairly easy against the Browns. Playing nearly three full quarters, the second-year pro completed 14 of 18 passes for 131 yards with two touchdowns, no interceptions, no sacks and an impressive 134.0 passer rating.
"I was pretty happy," Fales said. "There were a couple things I wish I would have seen a little bit more, but I was definitely happy. I saw the things that I knew we were going to get and we got to it and we executed pretty well for the most part."
Fales saw his most extended playing time Thursday night since last year's preseason finale against the Browns in Cleveland.
"It's nice to be able to get in a rhythm; know you don't have just one series or two series and kind of feel it out and then make your plays when it's time to make plays," Fales said. "It's definitely good to get comfortable and see what's going on."
Asked why he appeared so comfortable operating the offense, Fales said: "Just the experience from being around a bunch of smart guys like Jimmy [Clausen] and Jay [Cutler] and [quarterbacks coach] Dowell [Loggains] and [offensive coordinator Adam] Gase and picking up the protections and understanding what's coming at me at being able to get to something, having answers."
Fales produced the play of the game Thursday night, sprinting away from blitzing linebacker Tank Carder and lofting an 11-yard touchdown pass to receiver Ify Umodu in the right corner of the end zone while being spun to the ground.
"I knew it was one-on-one so as long as Ify kept going it was going to be him and that guy and it was either going out of bounds or he was going to catch it," Fales said.
It's unclear whether the Bears will keep three quarterbacks on their 53-man roster, a decision that's due by 3 p.m. Saturday when NFL teams are required to make final cuts.
"It's never an easy time for any coach in the National Football League," said coach John Fox. "You've got guys who have really worked hard and sacrificed a lot of time and effort."
Asked about the next 48 hours, Fales said: "Out of my control. They'll let me know when they know. Nothing I can do."