Bears rookie quarterback David Fales was blindsided by the news Tuesday that his former San Jose State teammate, Houston Texans tackle David Quessenberry, has been diagnosed with lymphoma.
"I was speechless because I was just looking on Twitter and I saw his face and I was like, 'Oh, there's D.Q.,' and then I saw that and I didn't know how to react," Fales said. "It's sad. It's still kind of sinking in. It really hasn't hit me too much. It's just kind of overwhelming."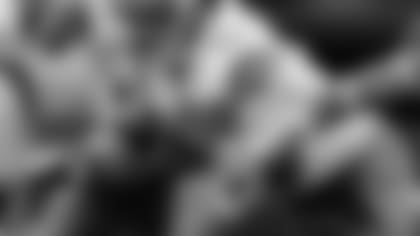 David Quessenberry fires off the line as David Fales takes a snap in the 2012 Military Bowl.
Fales met Quessenberry in 2012 after transferring to San Jose State as a junior. In their only season together, the quarterback and tackle helped the Spartans compile an 11-2 record, earn a bowl game berth for the first time since 2006 and garner the school's first-ever BCS ranking.
Quessenberry was selected in the sixth round of the 2013 draft by the Texans, but he spent his entire rookie season on injured reserve after breaking his foot in practice. Fales was chosen in the sixth round of the 2014 draft by the Bears.
According to a statement released by the Texans Tuesday, Quessenberry "experienced fatigue and a persistent cough over the past week and sought a medical evaluation to a find a cause." Diagnosed last Tuesday, the 23-year-old is undergoing treatment at a hospital in Houston and will be placed on the non-football injury list.
"Our medical community here in Houston is the best in the world," said Texans general manager Rick Smith. "We are extremely confident in the care and treatment David will receive. He is a fighter and a courageous young man and we look forward to his full and complete recovery. We will continue to support him and his family and look forward to his return to the team."
Knowing Quessenberry as well as he does, Fales is confident that his friend will defeat the illness.
"If there's anybody who's going to fight through it, he's the guy," Fales said. "Anybody who has been his teammate knows that he's one of the hardest workers and he's tough."
Quessenberry is so tough that he was the one consoling Fales when the quarterback called him Tuesday after seeing the news on Twitter.
"He's one of those guys where I'm calling him to make sure he's OK and he's picking me up," Fales said. "I texted our strength coach [at San Jose State] and he said the same thing: 'It's weird when you're calling him and he's picking you up. But that's just the kind of guy he is. He's one of the toughest good friends we all have."
Learning that his friend has cancer no doubt will change how Fales approaches his everyday life.
"Just take advantage of all the opportunities you get and [realize] how fortunate you are just to be healthy and able to participate," Fales said. "If you ever think you're stressed or you're tired or you're having a tough day, there are a lot of people who wish they were in your position and just want an opportunity because he doesn't have an opportunity to go out there and compete anymore.
"He's trying to get healthy and have a regular life, so it's really eye-opening."