The Bears hope that rookie quarterback David Fales ultimately will push Jordan Palmer for the backup position behind Jay Cutler. But they know the sixth-round pick must learn to walk before he can run.
"That's why we drafted David, to challenge for the No. 2 spot," offensive coordinator Aaron Kromer said Saturday during rookie minicamp. "Right now he's challenging to be on the team.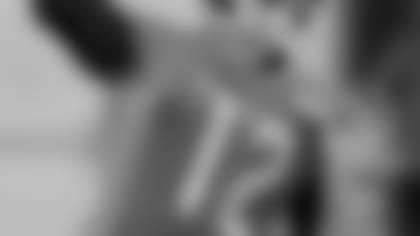 David Fales throws a pass during Bears rookie minicamp at Halas Hall.
"He came in and in these first few meetings and practices he's done a good job of understanding and being able to call plays. He can visualize them, he can say them, and he appears to be intelligent in that way because he's picked it up very quickly. He's a good communicator. We just need time to see what he's going to do when guys really start rushing on him."
Although Palmer will get the first opportunity to win the backup job, Fales figures to provide a push when he's ready. He impressed quarterbacks coach Matt Cavanaugh during a private workout about a week before the draft and was then selected by the Bears with the 183rd overall pick.
The 6-2, 212-pounder was ultra-productive at San Jose State, where he passed for 4,193 yards and 33 touchdowns in 2012 and 4,189 yards and 33 TDs in 2013. Those gaudy numbers won't automatically translate to success in the NFL, however.
"Things happen so much faster, so they have to think faster," Kromer said. "The plays are harder to call. Everything's harder. The plays are very short in college so that everybody can understand them. They don't need as many. They can call them one word or two words and make them simple for everybody, where we need to have variation on our base plays and we might have 10 variations. Well, that's 10 different things to learn to say."
After spitting out the play in the huddle, NFL quarterbacks generally must also call the protection, identify the coverage, point out the middle linebacker and make the correct drop.
"All those things put together, you never know if a guy can do it until he does it," Kromer said. "That takes time. You want the quarterback to walk in and throw strikes. But it's like any position. It takes time to learn and hone your skills."
Fales has looked and felt comfortable during the first two practices at rookie minicamp.
"It's been good," he said. "Coach Cavanaugh has done a great job with us just getting us ready and spending time going over the terminology; not only understanding it but saying it in the huddle and understanding what you're saying, being clear so everybody else understands you."
Fales has benefitted from operating a similar system in college.
"It's a lot of the exact same stuff I did at San Jose both years," he said. "It's a mix and some of the terminology is even the same, too, so it's an easier transition, although the playbook has really been base the last two days. It's not nearly where the full [playbook will be], but having the offense at San Jose definitely made it easier."
Palmer also made it easier for Fales, tutoring the young quarterback at a training facility in California in advance of the draft. The two will now be battling for the backup job, but the rookie doesn't think the competition will damage their relationship.
"He's a good friend of mine and I look forward to working with him," Fales said. "We're competing, and he's got more experience, so I'm going to pick his brain a little bit, too."
Palmer spent the final nine weeks of the 2013 season on the Bears' 53-man roster, but he did not play in a game. The 29-year-old has appeared in four career NFL games—all as a backup with the Bengals from 2008-10—completing 10 of 15 passes for 49 yards and two interceptions.
Coach Marc Trestman said Saturday that the Bears may bring four quarterbacks to training camp—Jerrod Johnson is also on the roster—and that Palmer would get the first crack at the No. 2 job.
"I've told Jordan that he's going to have the first shot, [but] that the backup position hasn't been won yet," Trestman said. "I talked to Jordan about it [Friday] and there's a competition.
"Jordan's been here and deserves the first opportunity and the reps to get there. But we're not going to put anybody in that position until we have to. We've got a long way to go."