The moves the Bears may make in free agency and the draft are traditionally a popular topic of conversation on sports radio programs and at local taverns. But defensive coordinator Vic Fangio is much more interested in the players who are currently on the roster.
"The most important thing we have to do is improve the guys that we already have regardless of who we might get in the draft or free agency," said Fangio, who will return in the same role for a fourth season with the Bears after being retained by new head coach Matt Nagy.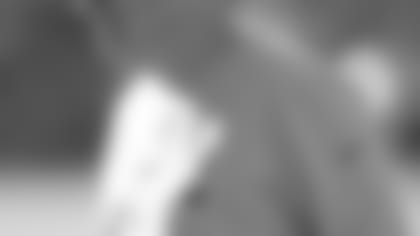 Vic Fangio hopes to see the Bears defense continue to improve as he enters his fourth year as coordinator.


"Guys like Akiem Hicks, Eddie Goldman, Danny Trevathan, Leonard [Floyd], Eddie Jackson—I know I'm going to miss some—I think they all have a lot more to give us than we've seen. And it's our job to get them to improve and become even better players.
"That will be more important to us than anybody we acquire between now and whenever our first game is. I know it's always sexy to talk [about] who are you going to draft, who's in free agency, etc. But we've got to get our so-called good players playing even better, and that will be critical."
Fangio, who was the first of six candidates to interview with general manager Ryan Pace for the vacant head-coaching position, has been lauded for his work with the Bears defense.
Fangio helped transform a unit that had ranked 30th in the NFL in total yards in each of the two years before he arrived into a defense that finished 14th in 2015, 15th in 2016 and 10th in 2017. This past season Fangio led a unit that ranked ninth in the league in fewest points allowed and recorded 42 sacks, the second most by the Bears in the past 20 years.
While pleased with the progress the defense has made under his watch, Fangio nonetheless thinks that the unit doesn't deserve all the accolades it has seemingly been receiving.
"There's no doubt strides were made, [but] not enough," Fangio said. "I think it's a wrong picture to paint that the defense was great and the rest of the team wasn't. We were 5-11. If we were a great defense, we'd have more than five wins. There's a lot of room for improvement there, a lot, and we need to do that."
The defense's performance was even more impressive in 2017 given several players sustained season-ending injuries. Among those who finished the year on injured reserve were safety Quintin Demps; outside linebackers Floyd, Pernell McPhee and Willie Young; inside linebacker Jerrell Freeman; and defensive end Mitch Unrein.
Moving forward, the Bears are hoping to avoid the rash of injuries that has plagued them in recent years while continuing to develop their young players. One of the reasons Fangio wanted to return was because he immensely enjoys working with his players.
"That's a positive," he said. "I like our guys. I think I said it here during the season at a point that I really like coaching the group that we have. My favorite time during the week was being in front of them going over practice, watching the opponents' tape, installing the plan for the week. I really liked being in front of our guys. They're a good group collectively and as individuals and that part was appealing to me."
Another reason Fangio wanted to return to the Bears was the presence of promising young quarterback Mitchell Trubisky, the second overall pick in last year's draft.
"Mitchell is a part of the equation," Fangio said. "I think he has a chance to be a really good player, regardless of who is coaching him, so that was positive."
Trubisky started the final 12 games of the season, completing 59.4 percent of his passes for 2,193 yards with seven touchdowns, seven interceptions and a 77.5 passer rating.
"No. 1, he's got talent and you've got to have talent to play in this league at any position, but particularly that one," Fangio said. "He's a good worker. Football is important to him. He's athletic, has ability to improvise and make plays, which you see each and every week when you watch games in the league. It's an important quality to have. And I think he's got good leadership skills and will be a good leader."