Preparing to face the Cowboys in Dallas Sunday night, Vic Fangio spoke to the media Wednesday. Here are four things we learned from the Bears defensive coordinator:
(1) Fangio thought the defense improved from Week 1 against the Texans to Week 2 versus the Eagles, but he lamented the unit's failure to generate a turnover in Monday night's loss.
"I thought there was a lot of good in the game," Fangio said. "I thought we played well for a good bit of time there. We just came up empty in the takeaway department, which we needed to at least match Philadelphia there. They got three on us and we didn't get any. That's probably the turning point of the game. I thought overall our play was pretty good."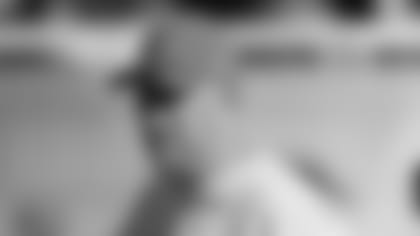 Defensive coordinator Vic Fangio is in his second season with the Bears.


The Bears haven't produced a takeaway since the opening possession of the season when Tracy Porter intercepted a Brock Osweiler pass in a 23-14 loss to the Texans. On Monday night, the Bears offense committed three turnovers that the Eagles converted into two touchdowns.
Asked how he can help the defense produce more turnovers, Fangio said: "We emphasize it a lot. We emphasize it each and every day. Ultimately, we've just got to find the ball a little bit more. It comes with better play and better coaching."
The Bears are 1-11 when not generating a takeaway since 2014, with their only win coming last season in Kansas City. They've also lost their last 16 games when having a turnover ratio of minus-three or worse, with their last victory coming on Oct. 16, 2006 when they overcame a minus-four ratio in rallying to stun the Cardinals 24-23 on Monday Night Football.
(2) Fangio is impressed with Cowboys rookie quarterback Dak Prescott, who passed for 292 yards and ran for a 6-yard touchdown last Sunday in a 27-23 win over the Redskins.
"He's got good composure," Fangio said. "The game doesn't seem to be too big for him. You can see why he did well in college. He came from a winning program at Mississippi State. He helped turn that program around. It just looks like it comes natural for him."
Prescott, a fourth-round draft pick, has thrown 75 passes in two games without an interception.
"We're defending their offense and he's done a nice job running it," Fangio said. "He is a good athlete. He does have the ability to run. They do some zone read with him to where he could pull and keep it on a running play. He can scramble some, so we've got to be concerned about that. And he's doing a nice job throwing it. He's played well for these guys the first two weeks."
(3) Inside linebacker Jerrell Freeman, who signed with the Bears as a free agent in March, has provided a big boost on defense.
"He's done a nice job of making plays for us inside," Fangio said. "Some of the simple plays that get taken for granted, he's keyed and diagnosed well. He's made some big plays on a couple of screens. He's been where he's supposed to be most of the time. He plays with a calmness to him, yet it's a fired up calmness. His experience and overall play has been good."
Freeman leads the Bears with 15 tackles and four tackles-for-loss and will be counted on even more after fellow inside linebacker and free-agent addition Danny Trevathan suffered a sprained thumb against the Eagles that will require surgery.
(4) Fangio was pleased with the impact that outside linebacker Willie Young made in Monday night's home opener, especially against the run.
Fangio didn't call out Young after he was limited to one tackle in the season opener. But the defensive coordinator did say that 'Willie is capable of better and we need him to be better."
Young responded against the Eagles by recording seven tackles, one sack and two tackles-for-loss. He helped limit Philadelphia to just 3.1 yards per rush.
"He showed that ability last year towards the end of the season and then showed it this past game again," Fangio said. "We're going to need that type of play from him throughout the season."