Defensive coordinator Vic Fangio has been impressed with how a revamped Bears secondary led by veteran safety Quintin Demps has performed so far in training camp.
Demps signed with the Bears in March after spending his first nine NFL seasons with the Eagles, Texans, Chiefs and Giants. A late bloomer, he didn't make his first pro start until his sixth year in the league and has recorded 15 of his 18 career interceptions the past four seasons, including six last year in 13 games with the Texans.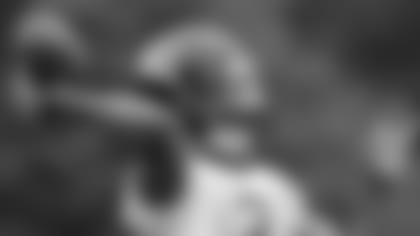 Free-agent acquisition Quintin Demps had six interceptions last season with the Texans.


"Demps has done a nice job," Fangio said Friday in Bourbonnais. "He's picked up the defense pretty good, does a good job of reacting and keying things and pulling his trigger. Just have to see him finish plays, which we'll be able to see in games."
The Bears also signed veteran cornerbacks Marcus Cooper and Prince Amukamara in free agency. While Cooper has been slowed by a hamstring injury, Amukamara has impressed in camp.
"Prince has done a good job," Fangio said. "I think he's picked it up well. We're hopeful he'll do a good job for us. There's no reason to think he won't."
Amukamara spent last year with the Jaguars after playing his first five pro seasons with the Giants, where he teamed with Demps in 2014.
"Prince could always run," Fangio said. "He was always a fast guy. I think he's really grown from his days at Nebraska, which was the last time I ever saw him play. He's learned the game more; he's had a gradual progression from that. He's a little bit savvier than he was then through playing time. I just think he's a better all-around football player than what I remember when he was coming out. Hopefully we can see him get his hands on some balls this year."
In Demps, Cooper and Amukamara, the Bears could have three new starters in the secondary this season. Asked how challenging that would be, Fangio said: "It all depends on the intelligence level of those players and how football savvy they are. That's really the guiding factor.
"Luckily we had the OTAs in the offseason, so they had 10-12 practices there to get that a good start and they've all been out here, minus Coop. That's all dependent upon them and they've done a good job so far."
The Bears actually could have new starters at all four defensive back positons if rookie fourth-round pick Eddie Jackson or second-year pro Deon Bush supplants incumbent Adrian Amos. The wholesale changes were made in the secondary after the Bears generated an all-time franchise-low 11 takeaways last season, including just eight interceptions.
Jackson has shown ball skills, range and instincts throughout camp, sprinting to the sideline to intercept passes twice this week in practice both Sunday and Wednesday.
Jackson had a knack for finding the end zone on both defense and special teams the past two seasons at Alabama, scoring three touchdowns on interception returns of 50, 93 and 55 yards and two TDs on punt returns of 85 and 79 yards.
"He's a guy that catches punts, so he's got good ball skills," Fangio said. "That was a check in his corner there from the get-go. He's got good range. He's athletic. He played some corner in college, so we've seen some of that athletic ability. We'll just have to see him tackle. We can't afford to have anyone out there that can't tackle, so tackling will be a determining factor for him."
Amos has started 31 of 32 games in two seasons with the Bears since being selected in the fifth round of the 2015 draft out of Penn State, but he has yet to record an interception.
Asked how the Bears intend to improve Amos' ball skills, Fangio said: "Throw him a thousand balls. Not just playing catch but breaking off the deep zone and breaking to the sideline and catching the ball. Breaking on an inside cut. Just trying to throw him as many balls as possible that are realistic. Playing catch isn't going to get it done. You've got to make it [like a game]."