Bears fans can help outside linebacker Sam Acho earn a $25,000 donation for the charitable foundation that his parents started in 1989 and continue to operate.
As the Bears nominee for the 2016 Walter Payton NFL Man of the Year Award, Acho will compete with the other 31 team winners league wide via social media. Fans are encouraged to tweet and retweet using the hashtag #AchoWPMOYChallenge. The player whose hashtag that generates the most mentions will win the $25,000 donation.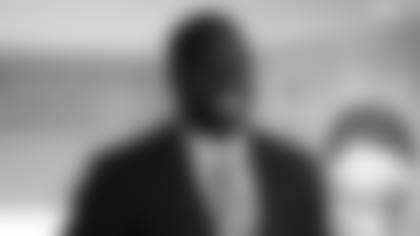 Fans are encouraged to tweet and retweet using the hashtag #AchoWPMOYChallenge.


The charity that Acho has selected is Living Hope Christian Ministries, which was founded by Dr. Sonny Acho and Christy Acho, who have been returning to their native Nigeria each of the past 27 years with doctors and nurses to provide free medical care. Acho has traveled with the group about 10 times, beginning when he was 12.
Without medical care, people in Nigeria have passed away from insect bites and stomach flu, and their lives have been incapacitated by cataracts, hernias and abscessed teeth. But with the free treatment from the doctors and nurses on the mission trips arranged by Living Hope Christian Ministries, the people have Nigeria have been afforded longer and more fulfilling lives.
Acho recently hosted a celebrity waiter night that he said raised $60,000 to help build a hospital in Nigeria.
The Walter Payton Man of the Year award is the only league award that recognizes a player's off-the-field community service as well as his performance on the field. It has been in existence since 1970 and rewards NFL players who demonstrate outstanding balance in their lives between civic and professional responsibilities.
In 1999, the league renamed the Man of the Year award after Walter Payton as a tribute to his greatness both on and off the field. The legendary Hall of Fame running back passed away on Nov. 1, 1999 at the age of 45 due to bile duct cancer.
Three of the 32 nominees for the Man of the Year Award will be selected as finalists in January. The winner will then be announced in Houston at NFL Honors, a two-hour primetime awards special to air nationally on February 4, the night before Super Bowl LI on FOX.