Bears fans can help send their favorite players to the Pro Bowl by registering their votes through Dec. 26. Some of the most deserving players include running back Matt Forte, receivers Brandon Marshall and Alshon Jeffery, tight end Martellus Bennett and return specialist Devin Hester.
Forte ranks fourth in the NFL in rushing with 1,073 yards and seven touchdowns on 234 carries and is third in the league with 1,581 yards from scrimmage, having caught 65 passes for 518 yards and 2 TDs. The 65 receptions are the most ever by a Bears running back.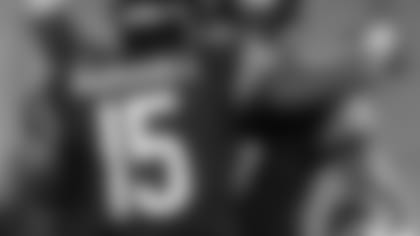 Brandon Marshall and Alshon Jeffery are the NFL's top receving tandem with 2,283 yards.
This year Forte became the first player in Bears history to top 1,000 yards as a rusher and 500 yards as a receiver in multiple seasons. He ranks second on the franchise's all-time rushing list with 6,400 yards, trailing only Hall of Famer Walter Payton (16,726).
Marshall ranks fourth in the NFL with 84 receptions and eighth with 1,090 yards. He leads the Bears with nine TD catches and six 100-yard games. Since arriving in a trade prior to last season, Marshall is second in the league with 202 receptions, third with 2,598 yards and fifth with 20 TDs.
Jeffery is tied for seventh in the NFL with 75 receptions and fifth with a team-leading 1,193 yards. He broke his own Bears record with 249 yards in a Week 13 loss in Minnesota and is one of eight receivers in NFL history to have two 200-yard games in the same season.
Marshall and Jeffery have combined for 2,283 yards, the most by any duo in the NFL. They are 65 yards shy of breaking the Bears record for receiving yards by two teammates (2,347), which was set by Marcus Robinson (1,400) and Bobby Engram (947) in 1999.
Bennett is eighth among NFL tight ends with 53 receptions, 12th with 588 yards and tied for ninth with five touchdowns. He is on pace to eclipse his career highs of 55 catches, 626 yards and five TDs. Bennett now has 1,214 yards and 10 TDs over the last two seasons.
Hester ranks sixth in the NFL in kickoff returns with a 28.1-yard average and had an 81-yard punt return TD in a Week 7 loss in Washington. Hester is the NFL's all-time leader with 18 combined kick return touchdowns and 13 punt return TDs.
For the first time ever, the Pro Bowl will not be determined by conference. Gone is the familiar AFC vs. NFC match-up that has existed since 1971. Instead, players will be selected without regard to conference in voting by fans, coaches and players.
For example, the top six quarterbacks following voting will earn distinction as All-Stars, regardless of how many are from AFC or NFC teams. Then, the NFL's All-Stars will be realigned through a fantasy football-style draft.
The Pro Bowl players will be announced on NFL Network's "Total Access" in early January. Players will later be assigned to teams through the first-ever Pro Bowl Draft on Wednesday, January 22, which will also air on NFL Network. The 2014 Pro Bowl will be played on Sunday, January 26, and televised live on NBC from Aloha Stadium in Honolulu.