The 2012 Bears made their first appearance at Soldier Field Friday night, conducting a two-hour Family Fest practice before an enthusiastic crowd of 27,352 fans.
"It's great being down in Bourbonnais, but there's nothing like coming and having a practice at Soldier Field," said coach Lovie Smith. "The guys hyperventilate almost from the start just coming out on the field. We have great fans and it's just a different environment when you come and you practice here as opposed to being on the practice field at Bourbonnais."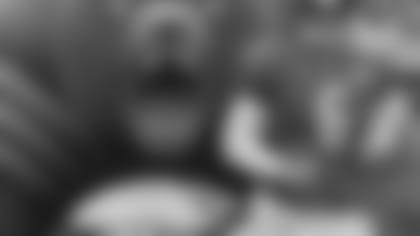 Bears quarterback Jay Cutler runs onto the field for Friday night's Family Fest practice at Soldier Field.
The fans got their first glimpse of Brandon Marshall in a Bears uniform. The three-time Pro Bowler continued to excel, catching several passes from Jay Cutler in 7-on-7 and 11-on-11 drills.

On one play in the red zone, Marshall hauled in a touchdown pass in the back of the end zone with three defenders draped all over him.

"It was a good experience for myself and definitely for my teammates," Marshall said. "Personally, I get a little antsy under the lights and when there are a lot of people, so it was a good little pre-warm-up for the season and the preseason because I have to work on my nerves when I get in the red zone.

"I'm excited about this opportunity and all the support that the Bears have and all the love that they're showing me."

Marshall received a thunderous ovation when he was introduced at the beginning of practice. Asked about Soldier Field, he said: "I love it. There's a lot of excitement and a lot of electricity. I've never been welcomed so warmly before, so it was exciting."

Among the highlights at Friday night's practice were Cutler firing touchdown passes to Marshall and Devin Hester in a red-zone drill, Jason Campbell rifling a TD pass to Devin Thomas, Charles Tillman stripping the ball from Matt Forte, and Anthony Walters intercepting an overthrown Campbell pass.
[ ](http://www.phoenix.edu/campus-locations/il.html?utmsource=Story&utmmedium=instory&utmcampaign=300x100)
Venturing north from Bourbonnais to practice at Soldier Field seemed to give the Bears a boost.
"At this point everybody's bodies are hurting," Marshall said. "Sometimes your energy is a little down in camp. When you get a chance to practice in an atmosphere like this, it gives you that extra juice to get through the day, and it feels like a game. We approached it as such and I think it was a good day for both sides of the ball."
Brian Urlacher was held out of 7-of-7 and 11-of-11 drills for the third straight practice due to knee soreness. But Smith hopes the star middle linebacker will return Sunday when the Bears are back on the field in Bourbonnais after an off day Saturday.