Indiana guard Dan Feeney, a potential first-round pick in this year's NFL Draft, wasn't surprised with the success that former Hoosiers teammate Jordan Howard had as a Bears rookie.
"Not at all," Feeney said last week while playing for the North team coached by the Bears in the Senior Bowl. "Honestly, he's a great dude and a great football player, and I'm glad that he broke that rookie rushing record. I knew he could and I'm really happy for him."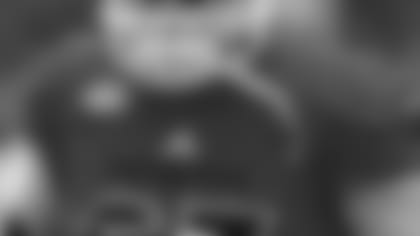 Indiana guard Dan Feeney is a potential first-round pick in this year's NFL Draft.


A fifth-round draft pick in 2016, Howard didn't start until Week 4 when running backs Jeremy Langford and Ka'Deem Carey were both injured. But Howard ultimately finished second in the NFL in rushing and set Bears rookie records with 1,313 yards and seven 100-yard games.
Feeney followed Howard's rookie season very closely not only because they played together at Indiana in 2015 but because Feeney grew up in Orland Park, a south suburb of Chicago.
"I was really stoked when he went to the Bears," Feeney said. "Growing up a Bears fan it was really cool seeing one of my friends go to the Bears."
Feeney laughed when asked whether Howard is always as quiet and reserved as he seems.
"He's really shy until you get to know him," Feeney said. "You've got to spend a lot of time with him and you've got to build that bond until he completely trusts you. Then he kind of opens up a little bit and becomes himself."
Rooting for White
West Virginia cornerback Rasul Douglas, who also played on the North team at the Senior Bowl, is convinced that former Mountaineers receiver Kevin White will rebound from serious leg injuries that have plagued him his first two NFL seasons.
Asked what Bears fans can expect to see when White returns to action, Douglas said: "They're going to see a beast. Kevin White is a different receiver. He's an animal. I know he will get back healthy. It'll come and when it does I'm just excited to see what God has in store for him."
The Bears selected White with the seventh overall pick in the 2015 draft. He missed his entire rookie season with a stress fracture in his left leg, returned to play the first four games in 2016 but then was lost for the season with a broken fibula in the same leg.
Douglas, who led the nation with eight interceptions in 2016, is also familiar with Bears inside linebacker Nick Kwiatkoski, having teamed with him on West Virginia's defense in 2015.
"He's a great guy," Douglas said. "He's a great leader. You always expect him to do the right thing. You know you can follow him because he's going to lead you the right way."
Snap decision
Louisville long-snapper Colin Holba also played for the North team after spending a few days in the Chicago area being tutored by former Bears long-snapper Patrick Mannelly.
"You have all these snapping coaches that work on your technique and stuff like that and then working with him was unlike any other experience," Holba said. "[Very few] guys have ever snapped in the NFL for 16 years, so he knew basically everything.
"He really didn't touch my snapping technique. It was all what I was going to expect [at the Senior Bowl], what I can expect when I go into minicamp, different ways to warm up, just really my approach to the game and my approach to playing in the NFL. So it was a lot of the mental aspect of the game and a lot of the NFL side of it, not just how to snap the ball."
Mannelly holds Bears records for most games (245) and seasons (16) played. The connection between Mannelly and Holba was made through agent Brooks Henderson, who represents both of them.
"Within the long-snapping community you kind of know who everybody is," Holba said. "I would say him and Greg Warren (who has been the Steelers long-snapper since 2005) are two of the guys that my generation really looked up to and really know about because they did it for so long and you never hear anything bad about them.
"They're great guys in the community. They're great locker room guys. They're obviously great snappers. [Mannelly] was one of the guys I looked up to once I really started getting into snapping."