Harold Jones-Quartey can't wait until Saturday morning when the Bears practice in pads for the first time after two non-contact workouts in Bourbonnais.
"I want to tackle every time, even in walkthroughs," the feisty second-year safety said with a smile. "I just like to practice fast, so the game becomes slow."
Jones-Quartey hopes to make an impact this summer in the Bears secondary—both figuratively and literally—and is being given a golden opportunity to do so, getting reps with the No. 1 defense.
The 5-11, 210-pounder appeared in 13 games with four starts for the Bears last year. But he didn't join the team until Sept. 6, just one week before the regular-season opener.
Jones-Quartey had spent training camp with the Cardinals last summer after signing with Arizona as an undrafted rookie out of the University of Findlay. But he was waived during final cuts.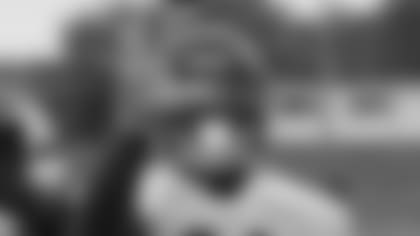 Harold Jones-Quartey appeared in 13 games with four starts for the Bears last year.


After spending an entire year with the Bears, his comfort level is off the charts compared to where it was when he first arrived in Chicago on the eve of the 2015 season.
"It's a big difference," Jones-Quartey said. "Now I have a foundation. I didn't have a foundation then. I came in and I was just trying to learn. And I wasn't starting either, so I wasn't getting reps. I had to basically learn off of other people and getting my scout team reps in.
"But having an offseason now, having the OTAs and training camp is huge. You have a foundation and I'm not thinking as much out there. Everything is quick decisions. I just feel much more comfortable."
Although Jones-Quartey played at a small college and went undrafted, he insists that he has "never once had a doubt" he could play in the NFL.
"I played at a Division II school, but I had a lot of friends who played at Ohio State and other schools," Jones-Quartey said. "I worked out with them all the time and they weren't doing anything that I felt like I couldn't do. Even when I watched NFL games, I didn't see anything that I felt like I couldn't do. I always kind of had that confidence and I just worked at it, and I think my work ethic gives me confidence."
Jones-Quartey's rookie season was filled with ups and downs. He started two games in October in place of the injured Antrel Rolle but was benched after getting burned by Lions star Calvin Johnson for a 57-yard reception that set up a game-winning field goal in overtime.
Jones-Quartey made the most of a second chance late in the season. Back in the starting lineup, he produced two takeaways in a win over the Buccaneers, forcing a fumble that linebacker John Timu recovered and intercepting a Jameis Winston pass on a jump-ball near the goal line.
The Bears defense could use more of those types of plays in 2016 after generating just 15 takeaways all of last season.
"Turnovers win games," Jones-Quartey said. "I feel like we didn't do a great job of [forcing] turnovers last year, so that's a huge emphasis. I'm going to try to punch out the ball and rake out the ball and just be annoying and eventually one's going to pop out."
When Jones-Quartey forces his next turnover, it's a safe bet that he'll celebrate the play and discuss it with whoever he victimizes. On the field, the second-year pro is animated and enjoys bantering back and forth with opponents.
"It gives me energy," Jones-Quartey said. "I talk to kind of get into the opponent's head. But it also makes me think, 'You're talking, so you've got to back it up.' I'm not going to talk and then not back it up."