Eddie Macon, who became the first African-American player in Bears history in 1952, passed away Wednesday in California following a brief illness. He was 90.
Macon was selected by the Bears in the second round of the 1952 draft out of Pacific and appeared in 23 games over two seasons before rejoining his college coach in the Canadian Football League.
Since 2012, Macon had lived in The Commons on Thornton, a senior community in Stockton, Calif., with his wife of 71 years, Jessie.
I had the pleasure of meeting Mr. Macon back in November 2011 the night before a Bears game in Oakland when he was living in the area. I invited him to the team hotel to meet then-coach Lovie Smith and several players, including Charles Tillman and Devin Hester.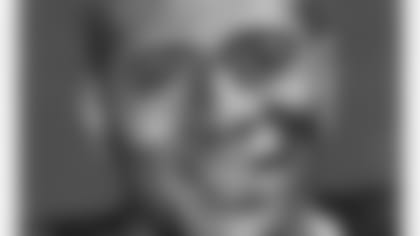 Eddie Macon became the first African-American player in Bears history in 1952.


Mr. Macon told me during our visit about his days with the Bears and about the discussions he had with founder and coach George Halas.
"He told me what he expected of me, and that was to come in and just be a football player and be a gentleman," Macon said at the time.
Macon's arrival in 1952 didn't cause much of a stir. Jackie Robinson had broken baseball's color barrier five years earlier, and several African Americans had played in the NFL from 1920-33.
In 1949, the Bears had become the first NFL team to draft an African-American player when they chose halfback George Taliaferro out of Indiana. But he opted to sign with the Los Angeles Dons in the rival All-American Football Conference.
Macon felt that most fans, teammates and opponents accepted him, with one exception.
"I had no problems with the fans," Macon said. "The team that I really had problems with was the Detroit Lions. They beat me in the face, twisted my legs. When I got in a pile, I tried to come out of that pile because I knew what they were going to try to do."
Macon also faced discrimination off the field. When the Bears played preseason games in the south, black players were not welcome in the same hotels as their white teammates. As a result, he stayed with African-American families who lived in the area.
While Macon deplored the racism and didn't appreciate being separated from his teammates, he enjoyed meeting the families he stayed with, saying: "They did everything to make me feel comfortable."
In two seasons with the Bears, Macon averaged 30.5 yards on 22 kickoff returns and 5.9 yards on 24 punt returns while also rushing for 324 yards and two touchdowns on 70 carries and catching 14 passes for 49 yards and 2 TDs.
Macon smiled when I asked about the role he played in Bears history.
"There always has to be a pioneer," he said. "Someone has to be the first and I was the first and I feel very proud that I was the first."
In addition to his wife, Macon is reportedly survived by four daughters, 12 grandchildren, more than three dozen great-grandchildren and 10 great-great grandchildren.