The Bears secondary entered the 2015 as one of the least experienced units on the Chicago roster. Starting safety Adrian Amos is a rookie and cornerback Kyle Fuller is in just his second season, while the two other starters – Alan Ball and Antrel Rolle – are both in their first years with the team. Nobody would have been surprised before the regular season began if this group went through some growing pains early on, as players the worked to get comfortable with each other and defensive coordinator Vic Fangio's scheme.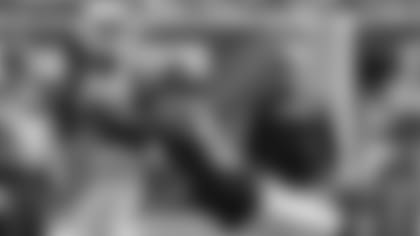 Bears cornerback Kyle Fuller covers Cardinals wide receiver John Brown.
Those pains arrived on Sunday against Arizona. The Chicago secondary struggled in the contest, a 48-23 win for the Cardinals that dropped the Bears to 0-2. Facing one of the league's most efficient downfield passing attacks, headlined by a future Hall of Fame wide receiver, the Bears' back four defenders had issues with both physical and mental errors.
"I think we've got to do more all around," Ball said following the loss. "We have to find a way to make plays on the back end, get our hands on the ball. We have to find a way to do more. Obviously (Sunday) wasn't good enough. Last week wasn't good enough. We've got to find a way to do more, whatever that means."
In his team's win, Cardinals quarterback Carson Palmer completed more than 70 percent of his attempts and threw four touchdown passes. Three of the scores went to Larry Fitzgerald, who found the end zone in a variety of ways.
In the second quarter, Fitzgerald showcased his Velcro-like hands, diving to haul in an 8-yard score. In the third quarter, it was Fitzgerald's concentration and route running that burned the defense, as he grabbed a perfectly thrown 28-yard pass from Palmer between two Bears defenders off a flea-flicker. And in the fourth, it was just pure strength, as Fitzgerald caught a short crossing route, then proceeded to run over Chicago cornerback Terrance Mitchell en route to his third TD.
Fitzgerald is Canton-bound for a reason once he retires, as the Bears are far from the first defense he has shown up in his career. However Sunday was a memorable game for him, as it marked the first time in his 12-year career that he had three touchdowns in a regular-season contest.
"I should have came up harder and attacked his outside leg," Mitchell said about Fitzgerald's final touchdown of the day. "But I'm going to learn from that. I guarantee it.
"We have to show we are good players too. (Palmer and Fitzgerald) have good chemistry with each other, but that don't mean nothing."
When they weren't hauling in deep passes, the Arizona offense was gaining yards in another way: penalties. Chicago was whistled on a pair of defensive pass inference penalties that gave the Cardinals 80 yards. Arizona was able to capitalize on the Bears errors, as the Cards scored in three plays or fewer after both of those calls.
Ball, who was called for one of the PI's, said he was surprised to see a flag on the field after he thought he had made a clean break-up on Palmer's second-quarter throw to John Brown deep down the left sideline.
"The refs see what they see, I see what I see, they're going to make the calls accordingly," the cornerback said. "Obviously, we have to do something better so that the flag doesn't come out because that's a big play and we can't give that up."
Despite the struggles, the Chicago secondary is optimistic things can be turned around. As the starters become more comfortable with each other and Fangio's play-calling, things are expected to improve. Fuller said that the group just has to go back to work, starting with this week of practice leading into next Sunday's game at Seattle. While the Seahawks are no easy task, the good news is the Bears don't have to see any more of Palmer and Fitzgerald this season.
"I still feel good, I know what we can do," Fuller said. "We just have to go out there and do it."