The following is the eighth of 10 stories featuring Bears coordinators and position coaches.
Entering his first season as Bears linebackers coach, Tim Tibesar has come a long way since beginning his career in 1997 as a graduate assistant at San Diego State.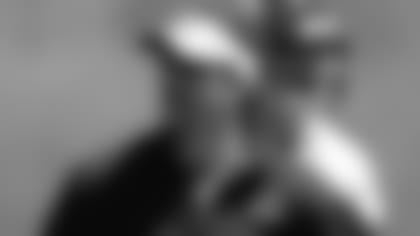 "It's a lifelong dream come true to get the opportunity to coach in the NFL," linebackers coach Tim Tibesar said.
"It's a lifelong dream come true to get the opportunity to coach in the NFL," Tibesar said. "It's extremely humbling to get this opportunity and very exciting at the same time. When you wake up in the morning and realize that you get to coach linebackers for the Chicago Bears, for a linebackers coach what more could you ask for?"
Tibesar worked for Bears' first-year head coach Marc Trestman with the CFL's Montreal Alouettes for three seasons, serving as linebackers coach in 2009-10 and defensive coordinator in 2011.
"I felt very fortunate to be up there with Marc," Tibesar said. "We had a tremendous amount of success, setting a franchise record for wins in a season and winning two Grey Cup championships.
"The on-the-field success was really enjoyable, but just the day-to-day going to work there with Marc and the staff and the players was extremely enjoyable."
Tibesar has complete faith in Trestman's leadership abilities.
"There are a lot of things about Marc that I really respect," Tibesar said. "One of his great strengths is he's able to lay out the vision for the entire football team and put the team on the path to accomplishing that vision.
"And then just his whole commitment to the idea of respecting everyone within the organization from the top down, from the head coach to assistant coaches to players to the equipment manager to the guy who cleans the floors at night and empties the garbage cans. Everyone's treated with a tremendous amount of respect and everyone's important to the entire success of the organization."
While Tibesar began his coaching career at San Diego State, he fell in love with the profession the following year at Grossmont College in El Cajon, Calif.
"Really that was my first experience of actual coaching because at San Diego State I was more of just a student helper," Tibesar said. "I had the opportunity to coach linebackers at Grossmont. We went undefeated and won a California junior college championship, which is a pretty big deal out there, and I was hooked. I loved it. From then on I knew that's what I wanted to do.
"I had so much fun. It certainly wasn't because of the pay. I got paid $450 for the entire year. It was a labor of love. My dad was a police officer and told me, 'If you can find something that you enjoy doing, then do that.' It was the same way for him. He loved his job."
Tibesar moved on to Cornell, where he coached tight ends in 2000 before spending five seasons working at his alma mater, North Dakota, as linebackers coach and later as defensive coordinator.
Tibesar was a four-year letter winner at North Dakota from 1993-96, serving as team captain his final two years. As a senior he earned first-team All-America honors and was named the North Central Conference's male athlete of the year.
After three seasons at Kansas State from 2006-08, Tibesar joined Trestman's staff in Montreal. He spent last year as Purdue's defensive coordinator and linebackers coach.
"What I enjoy most about coaching is seeing the players that you're coaching develop to their full potential and seeing them have success," Tibesar said. "That's really what it's all about and what makes it fun."