As they prepare to visit the 49ers Monday night, the Bears hope to rebound from their loss to the Texans the same way they did following their only other defeat of the season.
After falling 23-10 in Green Bay Sept. 13, the Bears won six games in a row for the first time since opening 7-0 in 2006, catapulting themselves into first place in the NFC North.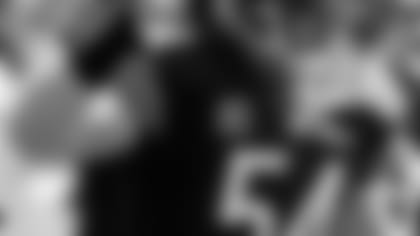 Brian Urlacher and the Bears remain in first place in the NFC North with a 7-2 record.
"It's a long year and statistics say you're going to lose a few games, especially to good football teams," said coach Lovie Smith. "We just identify the reasons why. I'm going to start with the turnover ratio and some other things. We didn't play well enough. It's kind of as simple as that."
The Bears know they can't commit four turnovers like they did against the Texans and expect to win. But they still lead their division by one game over the Packers (6-3) and top the NFL with 30 takeaways and a plus-109 point-differential.
"The big picture is we're 7-2," Smith said. "We've got one of the best records in the NFL. We had one disappointing loss in the past before against a team up north. We went on that streak after that. So we've been in this situation before. We'll bounce back. We have to do that.
"San Fran is not worried about us losing the football game and feeling bad around here. We have to be ready. That's life in the NFL and that's what we'll do. We have an extra day to prepare to correct some of those things, which we'll do, and hopefully get that win this week."
Second that notion: Smith is thrilled with how receiver Brandon Marshall has performed, but the Bears coach acknowledged that the offense needs a second pass-catcher to step up.
Against the Texans, Marshall was targeted 13 times and caught eight passes for 107 yards. Six of his teammates-Kyle Adams, Earl Bennett, Kellen Davis, Matt Forte, Devin Hester and Matt Spaeth-were targeted a combined 20 times and had just 10 receptions for 27 yards.
"Brandon has played outstanding ball, but we do [need a second receiver to contribute more]," Smith said. "We had a few opportunities [Sunday] night where we dropped a couple of balls that could have been big plays for us. Getting Alshon Jeffery back should help a little bit too, but we need to get a little bit more production out of that No. 2 slot."
Tough night: Two weeks after having what Smith described as his best game in five seasons with the Bears against the Panthers, Davis struggled versus the Texans.
The veteran tight end lost a fumble on the Bears' first play from scrimmage on his only reception of the game and later dropped two passes.
"I think as you look in the league it's pretty hard for guys to play at a certain level each week," Smith said. "I praised him based on his play [two weeks ago]. That's how we normally do it. [Sunday] night he'll say it wasn't his best game. He'll come back this week."
Ground to a halt: Forte had averaged at least 4.0 yards per carry in every game this season until being held to 2.4 yards by a Texans defense that entered Week 10 ranked ninth in the NFL in that category. Forte rushed for 39 yards on 16 carries with a long run of only eight yards.
"We have to give the Texans a little bit of credit," Smith said. "We weren't running against the scout team. They have good football players. We knew that going in. They played well.
"We just have to keep that commitment to the run, which we'll do, and eventually it will happen. There's a lot of football left to go this year."
Protection plan: While the run blocking could have been better, the Bears offensive line excelled in pass protection, not allowing a sack to a defense that was averaging three per game.
Texans defensive end J.J. Watt, who entered the contest with a league-leading 10.5 sacks, was credited with only one quarterback hit.
"Knowing who was coming into town, you had to be ready for it," Smith said. "Our offensive line has been critiqued so much and they knew how important it was. For us to have a chance they had to have better protection, and they did. They did a great job of competing throughout.
"You didn't hear a lot of their defensive linemen's names called throughout. The pass part of it was really good. Hopefully we'll just continue to build off of that. That's why it's disappointing when you have a loss. But if you start really breaking down the video there are some things you see on the video that you like that can hopefully take us to the next game."