It's difficult to argue that there's a better cornerback tandem in the NFL than Tim Jennings and Charles Tillman after the two ball hawks were among five Bears players voted to the Pro Bowl.
Also representing the Bears on the NFC squad will be receiver Brandon Marshall, defensive end Julius Peppers, and defensive tackle Henry Melton, who like Jennings will be making his first trip.
All five Bears were selected to start the Pro Bowl, which will be played Jan. 27 in Hawaii.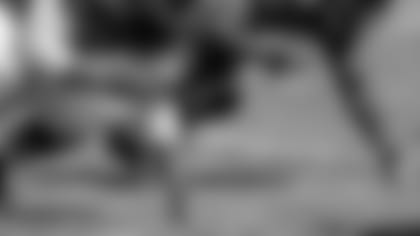 Julius Peppers (90) and Henry Melton are among five Bears headed to the Pro Bowl.
Despite missing two games with a shoulder injury, Jennings leads the NFL with a career-high eight interceptions, one of which he returned 25 yards for his first pro touchdown to spark a late rally in a thrilling 23-22 win Oct. 28 over the Carolina Panthers.
Jennings leads the Bears with 15 pass breakups and his three multi-interception games are a franchise record. He is only the fifth Bears cornerback to be selected to the Pro Bowl, following Allan Ellis (1977), Donnell Woolford (1993), Nathan Vasher (2005) and Tillman (2011-12).
"I'm excited," Jennings said. "Words can't express how I feel right now. This is a good moment. The season hasn't gone as well as I expected or wanted it to, but it's not over yet for the team goals. We've still got goals ahead of us.
"But this puts me in a good place right now as an individual. I just had the individual goal of the whole work I put into it and for the season not to go to where I would like it to this just kind of makes me feel a little bit better."
Tillman is the first cornerback to be selected to back-to-back Pro Bowls in Bears history and the team's first defensive back since safety Mark Carrier in 1990-91.
Tillman leads the NFL with a career-high 10 forced fumbles this season, increasing his career total to 39, the most by any NFL player since he entered the league in 2003.
Tillman has also returned all three of his interceptions for touchdowns this season, setting all-time Bears records for defensive TDs with nine and interceptions by a cornerback with 33, the third most overall in franchise history behind safeties Gary Fencik (38) and Richie Petitbon (37).
"We have a big play board and Charles has had the record for the last nine years or so," said coach Lovie Smith. "He set the pace with 13, and we have a formula that we use to be able to get that 13 number. He's at 21 already with a game to go in the season, just big play after big play.
"I couldn't tell you how valuable he is to our team and what he's done. I keep hearing about how old he is, over-the-hill gang and all of that, but he's had another career year."
Jennings is elated about going to the Pro Bowl with Tillman, who was selected NFC defensive player of the month for October after Jennings had won the award for September.
"That's one of the special moments that Charles and I can go over there and be teammates, starting corners," Jennings said. "He's done a lot for me while I was here. His work ethic that I see him putting into it, I just kind of take all of that because I don't want to let any of these guys down, there future Hall of Famer guys like Brian Urlacher, Lance Briggs and Charles Tillman."
Acquired in a blockbuster trade in March, Marshall has set Bears single-season receiving records with a career-high 113 receptions and 1,466 yards, ranking second in the NFL in both categories. Marshall has also established a career high with 11 touchdown catches, and his seven 100-yard games are tied for the most in franchise history.
Voted to his fourth career Pro Bowl, Marshall is only the second Bears receiver to be selected to the all-star game since Dick Gordon in 1971, joining Marty Booker in 2002.
Peppers was voted to the eighth Pro Bowl of his 11-year NFL career, including his third in as many seasons with the Bears. With three sacks in last Sunday's 28-13 win in Arizona, Peppers increased his season total to a team-high 11.5. In the process he became the first Bears player to reach double digits in sacks in back-to-back years since Rosevelt Colvin in 2001-02.
A converted college running back, Melton joined the Bears in 2009 as a defensive end before being moved to defensive tackle in 2010 after spending his entire rookie season on injured reserve. Melton ranks second in the NFL among defensive tackles this season with six sacks.
It's been a long journey from playing running back and defensive end, and now being a Pro Bowl defensive tackle, it's an amazing feeling," Melton said. "There are a lot of people who had a hand in helping me, and I just appreciate it."