Here are five players who stood out on the second day of training camp practice Friday in Bourbonnais:
(1) Quarterback Jay Cutler
Finally working with a healthy receiving corps after injuries decimated the unit last year, Cutler was sharp throughout Friday's workout, rifling accurate completions to top wideouts Alshon Jeffery, Kevin White and Eddie Royal as well as tight end Zach Miller.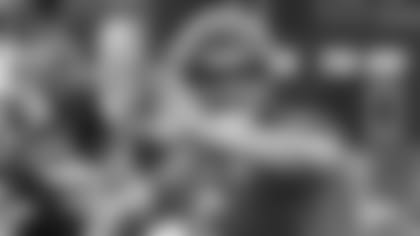 Quarterback Jay Cutler was sharp throughout Friday's workout.


Cutler appears to be making a seamless transition under new coordinator Dowell Loggains, who is employing virtually the same offense as last season when he was quarterbacks coach. Entering his eighth year with the Bears, Cutler also is continuing to display leadership skills.
"Jay does a great job with the younger guys," right guard Kyle Long said Wednesday when camp opened. "He brought me along and continues to bring me along. He can be a little honest and blunt with me from time-to-time, but beyond a shadow of a doubt, it's the right thing to do in his position, as the leader and vested player.
"He's a great guy. People in that locker room love him. He's tough as hell. He's got a cannon. He can run. And he's a competitor. We love him. He's been great this offseason and we're looking forward to seeing how he'll be this season with this new O-line and with the defense getting us the ball back a lot."
(2) Receiver Daniel Braverman
The rookie seventh-round pick from Western Michigan made three impressive catches with defenders draped all over him.
The 5-10, 185-pounder joins the Bears after ranking second in the nation last year with 108 receptions for 1,367 yards and 13 touchdowns.
"He's a guy who was very productive in college," said coach John Fox. "Our scouting department really liked him; that's why we drafted him. He caught our eye as far as putting it all together in the offseason and he's continued on that so far this camp."
(3) Defensive end Mitch Unrein
With all the buzz about the Bears' improved front seven, Unrein is rarely mentioned. But he's an integral part of the line as he showed Friday, routinely stuffing the run in team drills. The 6-4, 299-pounder likely will make even more of an impact when the pads come on Saturday.
Unrein signed with the Bears last Sept. 25 after being released by the Chargers. He appeared in the final 14 games, registering 32 tackles, one sack and two tackles-for-loss.
Unrein spent his first four NFL seasons playing for Fox and Bears defensive line coach Jay Rodgers with the Broncos from 2011-14.
"He's a solid performer, been very dependable and accountable in our history together," Fox said. "He was much the same when we brought him in last year, and I think he's even picked it up from that. He's comfortable in the 3-4 and what we're doing defensively."
(4) Cornerback De'Vante Bausby
The confident first-year pro broke up three passes in Friday's practice. Bausby was signed to the Bears practice squad late last season after an impressive workout. The team had no NFL tape to watch of the 6-2, 190-pounder because he had broken his collarbone last June after signing with the Chiefs as an undrafted free agent out of Pittsburg State.
Moving forward, it will be interesting to watch whether Bausby can build on Friday's performance and push for a spot on the Bears' 53-man roster.
With Long (calf) unable to practice Friday, Larsen worked with the No. 1 offense at right guard. The 6-2, 315-pounder signed with the Bears March 31 after appearing in 86 games with 57 starts at guard and center over six seasons with the Buccaneers and Cardinals.
"We've got numerous possibilities, but that's who we've kind of plugged in there for now," Fox said. "It's obviously helpful to have some veteran leadership there for sure."
Roster move: In other news Friday, the Bears re-signed offensive lineman Dan Buchholz and waived punter Ben LeCompte. Buchholz originally joined the Bears as an undrafted free agent from Duquesne May 9 before being waived a week later.