When Leonard Floyd steps on the practice field for the first time as a member of the Bears Friday, he'll be wearing the No. 94 as a tribute to a star player he hopes to emulate.
The Bears first-round draft pick has admired Denver Broncos outside linebacker DeMarcus Ware since first watching tape of the nine-time Pro Bowler while being recruited to Georgia.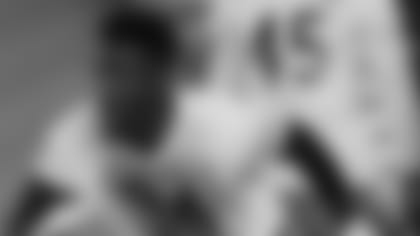 Bears first-round draft pick Leonard Floyd


Floyd's defensive coordinator and position coach at Georgia in 2013, Todd Grantham, was a defensive assistant with the Cowboys in 2008-09 when Ware played for Dallas.
"[Grantham] was showing me film and highlights of [Ware]," said Floyd, an outside linebacker who was selected by the Bears with the ninth pick in the draft. "After watching those highlights of him I became a fan and I always made sure that I put up a highlight film of him."
Ware has recorded 134.5 sacks in 11 NFL seasons with the Cowboys (2005-13) and Broncos (2014-15), leading the league with 20 in 2008 and 15.5 in 2010. Last season, he helped lead the Broncos to a 24-10 win over the Carolina Panthers in Super Bowl 50, recording two sacks.
Asked what he likes most about Ware, Floyd said: "Just his overall dominance. And how he has (offensive) tackles guessing on moves that they think he's going to do and he ends up doing the exact opposite and getting sacks from that."
The Bears are conducting their rookie minicamp at Halas Hall this weekend, with non-contact practices scheduled for Friday, Saturday and Sunday. Stick with ChicagoBears.com throughout the weekend for complete coverage.