Bears first-round draft pick Leonard Floyd exited the team's first training camp practice Thursday in Bourbonnais with what he described as "a little stomach bug."
"I'm feeling good right now," Floyd told reporters a couple hours later. "What happened today was I've been a little under the weather the past couple of days and the trainers knew that. They told me to go out and give it a shot today and then they shut me down.
"I really was begging them to let me go back out there. They told me to shut it down and try again tomorrow. I'm basically just trying to get back healthy and get back out there."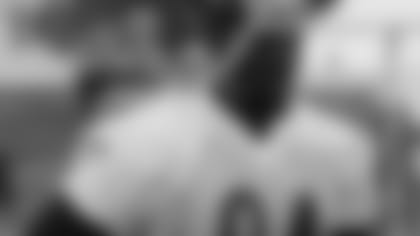 Bears first-round draft pick Leonard Floyd


Floyd, who departed on a golf cart midway through the two-hour non-contact practice after being evaluated by medical personnel, said he "wasn't fatigued, more just feeling bad."
Asked why he felt it was so important to finish the first workout, Floyd said: "Because I knew everybody was excited about me being out there today and I didn't want to let anybody down. I was really mad at the trainers for not letting me go back out there. I'm looking forward to going back out there tomorrow and attacking the day."
Other players who left practice early Thursday were tight end Khari Lee (shoulder), tackle Nick Becton (illness) and rookie outside linebacker Roy Robertson-Harris (illness).
Leg issue: Right guard Kyle Long suffered what coach John Fox later indicated was a calf injury late in Thursday's practice. More will be known about Long's status on Friday.
All smiles: Receiver Alshon Jeffery isn't upset that he was unable to reach a long-term contract agreement with the Bears before the July 15 deadline for franchise players.
"It wasn't difficult," said Jeffery, who will earn $14.599 million under terms of the franchise tender this year. "I'm here. I'm playing football. I've got a contract. I'm blessed."
When the Bears reported to training camp Wednesday, general manager Ryan Pace characterized the negotiations between the team and Jeffery's agent as "friendly the whole time" and said there were no hard feelings on either side.
"I feel really good about where he's at right now and kind of where we're at," Pace said. "I don't think [not getting a long-term deal done] is going to affect him at all."
A passion for coaching: The first training camp practice remains special to Fox, even as he enters his 15th season as an NFL head coach.
"I love what I do; that's why I'm still doing it," Fox said. "I have a passion for it. It's exciting because it does change. The personality of your team changes every year. So it's exciting. One of the values or the things that I'm passionate about in coaching is molding something into something. That's the exciting part for me."
Catch this: Bears receivers stood out in Thursday's practice. Cameron Meredith leaped high to haul in a pass near the left sideline before side-stepping a defender. Marc Mariani produced the best catch of the day, a one-handed grab that elicited a loud cheer from the crowd. Jeffery outjumped two defenders to haul in a pass that was deflected at the line of scrimmage before turning up field and dashing to the end zone.