The Bears are hoping the confidence that rookie Leonard Floyd figures to gain from his performance against the Packers will help accelerate his development.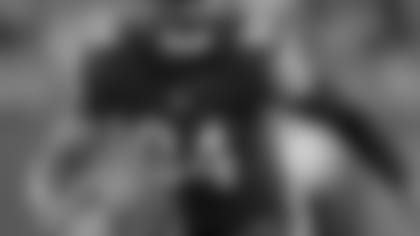 Leonard Floyd recorded his first two full NFL sacks last Thursday night in Green Bay.


After missing the previous two games with a calf injury, the ninth overall pick in the draft recorded his first two full NFL sacks last Thursday night in Green Bay. Floyd turned one of the sacks into a touchdown by stripping the ball from Aaron Rodgers and recovering it in the end zone.
"It's huge," said coach John Fox. "It's hard to have confidence when good things don't happen, so when good things happen your confidence gets a little higher. With a guy like Leonard who's as young as he is and has been in and out as much as he has, that was a huge boost."
Some analysts have wondered if the 6-4, 240-pounder is too light to play outside linebacker. But Floyd's weight didn't seem to be a problem against the Packers.
"It's the ability we saw to draft him where we did," Fox said. "He's got that. He'll continue to grow. He's a determined young guy who's not afraid to work. A lot's been made of his size both in the process and since, but he plays the game strong, he plays it sudden, he plays it explosive.
"Sometimes weight can be too much considered in that. He'll just continue to get stronger and develop more of a pro body as we move forward."
Welcome back: Despite not recording any tackles in limited action, Fox felt that Pernell McPhee took a positive first step in making his season debut against the Packers.
The veteran outside linebacker missed the first six games of the year following offseason surgery to repair a knee injury that hampered him during the second half of last season.
"I was pleased," Fox said. "It's been a while since we've seen him live playing football, no fault of anybody including his. We had a pitch count for him. He didn't play a lot of plays by design. But the ones he did play, I was impressed."
Defensive end Akiem Hicks was happy to welcome McPhee back onto the field, saying: "The guy has a lot of energy. Definitely motivated to win. Any time you have that type of charisma and personality it's definitely going to rub off on the younger guys."
On the mend: Fox reported that right guard Kyle Long exited last Thursday night's game with a triceps strain and received treatment for the injury over the weekend.
Asked about the risk/reward of playing Long when he's hurt, Fox said: "It goes back to medical clearance. We don't encourage guys to play while hurt where they can further injure themselves. We do first opinions, second opinions. It's quite an extreme process any time a player's injured and not just the concussion protocol but any kind of injury protocol we take very serious.
"He'll get evaluated and he's getting treatment along with many of our guys unfortunately. It is truly a day-to-day process."
Adjustment needed: When Long was replaced by Ted Larsen in the second quarter, the Bears suddenly were missing both of their Pro Bowl guards. Left guard Josh Sitton was unable to play due to an ankle injury and Eric Kush started in his place.
"It's part of football," said rookie center Cody Whitehair. "It's something we've got to adjust to, but we feel comfortable with the guys who came in and replaced the guys at the time."