Watching the draft Thursday night with relatives and friends at his aunt's house in Atlanta, Leonard Floyd initially thought he was going to be picked by the Buccaneers.
"It had got to the ninth pick and it was Tampa's turn and I had gotten a phone call," Floyd said Friday during his introductory press conference at Halas Hall. "I thought it was Tampa, but it was the Bears and I quickly jumped up because the Bears are one of my favorite teams.
"They always showed me the most love during this whole process, so I felt like it was a dream come true being drafted by the Bears. Right after that my whole family surrounded me, happy, celebrating. It was a good night."
The Bears acquired the No. 9 pick from the Buccaneers to take Floyd in exchange for the No. 11 selection in the first round and a fourth-round choice (No. 106th).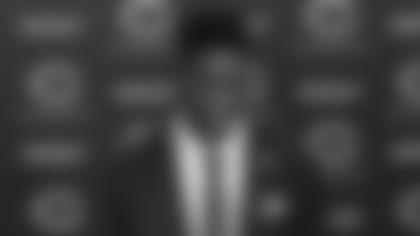 Bears first round pick Leonard Floyd met with the media at the PNC Center at Halas Hall on Friday.


Floyd was happy to be picked by the Bears not only because he hit it off with general manager Ryan Pace and coach John Fox during a pre-draft visit but because they play a 3-4 defense like the one he lined up in at Georgia.
"I definitely wanted to be on the right team with the right scheme and obviously with the Bears running a 3-4 it's the perfect fit for me because I've been running 3-4 my whole college career," Floyd said. "It was a great fit coming here."
Floyd was also impressed how the Bears took an interest in him as a person during the draft process, frequently asking about his 1-year-old son, Carter.
The versatile and athletic Floyd played all over the field at Georgia, rushing the passer from inside and outside and also dropping into coverage. With the Bears, the lanky 6-6, 244-pounder is expected to concentrate on pressuring the quarterback.
"I'm very excited about focusing on one position," he said. "That way I can push to master that position. So I'm very excited about that."
Floyd led Georgia in sacks each of the last three seasons, but he compiled only 4.5 last year. He likely would have had more if he hadn't been utilized so much in pass coverage.
"That definitely played a part because sometimes [on] third down I was dropping rather than rushing," Floyd said. "It played a big part in my sack numbers."
As a Georgia freshman in 2013, Floyd appeared in 13 games with eight starts and recorded a career-high 6.5 sacks. He hopes to make an immediate impact with the Bears as well.
"I'm always prepared because I like to win," Floyd said. "That's how I attack the day, that's how I attack practice. I'll just keep the same mindset, the winner's mindset. That'll make me work hard and contribute to the team."
Floyd is willing to add some bulk to his frame. He played at 235-236 pounds last year and now weighs 240. Pace said Thursday night that he thinks Floyd's ideal playing weight is in the 240s, so the outside linebacker won't have much to gain.
"We didn't talk about a number, but I believe that they want me to gain," Floyd said. "I' will do whatever they want me to, whatever the coaches see me playing at, what weight they see me playing at."