The knee injury that Bears outside linebacker Leonard Floyd suffered Sunday against the Lions will sideline the second-year pro, but it could have been a lot worse.
Coach John Fox acknowledged that Floyd will "miss some time" but added that the Bears do not believe at this point that the 2016 first-round pick sustained a torn ACL.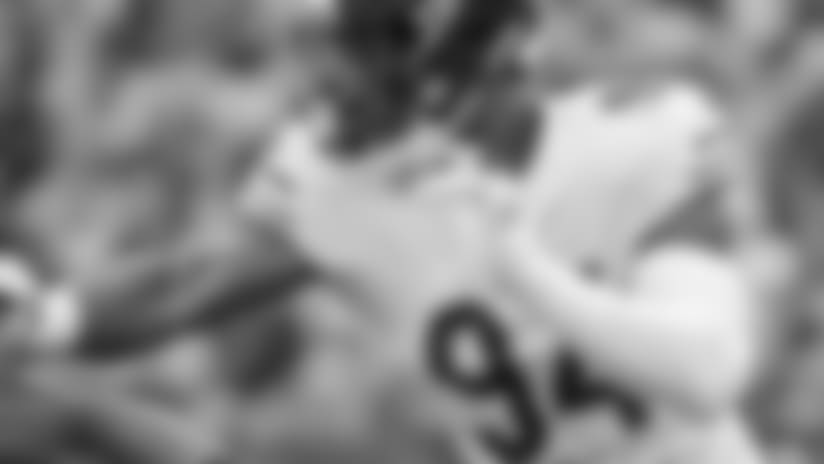 Bears linebacker Leonard Floyd.


"I think he's going to miss some time," Fox said. "The exact extent of all the medical terms, I think it's just fair to say he's going to miss some time. They're still evaluating it."
Asked to clarify whether Floyd tore his ACL, Fox said: "To our knowledge, at this point right now, he did not. But that's as of right now."
The Bears coach conceded that there's a chance Floyd could be placed on injured reserve.
"All of those options are available," Fox said. "Again, we're still evaluating it. They have different opinions as far as doctors. We're not at the end of all the evaluation yet."
Floyd was injured in the fourth quarter when he was hit by teammate Kyle Fuller while both were trying to tackle Theo Riddick on a running play. Floyd was carted to the locker room after recording four tackles, one tackle-for-loss and two quarterback hits in the game.
"He's one of our top players," Fox said. "Obviously it's disappointing. He was having a heck of a game. He was playing extremely well. It's unfortunate, but it's reality."
In 10 games this season, Floyd registered 33 tackles, 4.5 sacks, nine tackles-for-loss and one fumble recovery.
"He's one of our guys we love to have out there," said linebacker Christian Jones. "He makes plays for us. It's obviously going to hurt not having him out there. But it's the NFL. Guys get hurt, so we're going to have to adjust. But yeah, we're going to miss having him out there."