In the sixth of a nine-part series, ChicagoBears.com takes an in-depth look at the Bears' defensive line heading into the 2016 offseason.*
As nose tackle Eddie Goldman enters his second NFL season, the Bears are hopeful that the 2015 second-round draft pick will build on his successful rookie year.
Playing in the first 15 games with 12 starts before missing the season finale with an ankle injury, Goldman recorded 39 tackles, 4.5 sacks and six tackles-for-loss.
"I've been really excited about watching Eddie play," Bears outside linebacker Sam Acho said late last season. "He's a rookie, but he's a beast. We watched the film not too long ago and he's just dominant out there. There are plays where he could be better, but that's just a testament to the fact of how good he can be."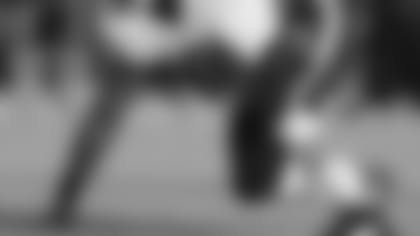 Eddie Goldman recorded 39 tackles, 4.5 sacks and six tackles-for-loss in 2015.


Goldman raised his level of play late in the season, registering 10 tackles, three sacks and three tackles-for-loss in a three-game span against the Broncos, Packers and 49ers.
"He's been getting better," defensive coordinator Vic Fangio said late in the season. "That's what impresses me the most is that he's been getting better throughout the season from game-to-game, learning his craft a little bit better. He's been hanging in there, not letting the physical wear and tear of the season get to him. His ability to improve I think is what has impressed me the most."
At Florida State, Goldman started all 13 games at defensive end as a sophomore in 2013, helping the Seminoles win the BCS National Championship. He then moved to nose tackle in 2014 and was named first-team All-ACC.
Known primarily as a run-stuffer in college, the 6-4, 336-pounder showed as a Bears rookie that he can rush the passer as well.
Another newcomer who performed well in 2015 was defensive lineman Jarvis Jenkins, a free-agent acquisition who joined the Bears after spending his first four NFL seasons with the Redskins.
Jenkins established career highs with 32 tackles, four sacks, six tackles-for-loss and 15 starts in 2015, helping the Bears defense improve in total yards from 30th in 2014 to 14th.
"Jarvis has been a pleasant surprise," coach John Fox said late in the season. "We signed him in the offseason and watched him on tape and been familiar with his career. I think he's been a good addition for our football team."
Other main contributors on the defensive line included Will Sutton and Mitch Unrein.
A 2014 third-round pick, Sutton didn't initially seem like a good fit in the Bears' new 3-4 scheme. But he fought through that adversity, recording 37 tackles and two tackles-for-loss while appearing in 13 games with seven starts.
Unrein signed with the Bears Sept. 25, one day after he was released by the Chargers. The 6-4, 306-pounder spent his first four seasons playing for Fox with the Broncos from 2011-14. With the Bears, Unrein had 32 tackles, one sack and two tackles-for-loss and also doubled as a short-yardage fullback.
Defensive lineman Ego Ferguson, a 2014 second-round selection, was placed on injured reserve Oct. 17 after compiling nine tackles in four games.
Jenkins and Unrein are both due to become unrestricted free agents in March.