In the third of a nine-part series, ChicagoBears.com takes an in-depth look at the Bears' wide receiver position heading into the 2016 offseason.
After an injury-plagued 2015 season, the Bears' wide receiver corps is hoping for a much healthier and more prosperous 2016 campaign.
The team's top four receivers entering training camp combined to sit out 35 of 64 games. Alshon Jeffery was limited to nine games due to injuries to his calf, groin, hamstring and shoulder. First-round pick Kevin White was sidelined the entire season with a stress fracture in his shin. And Eddie Royal and Marquess Wilson missed significant time as well.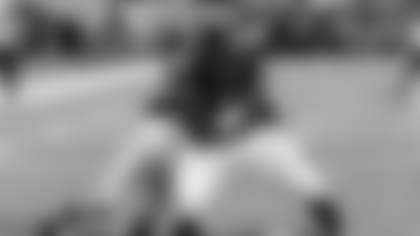 Alshon Jeffery led the Bears with 54 receptions in 2015 despite missing seven games with an array of injuries.
Even though Jeffery never played more than four games in a row in 2015, he still led the Bears with 54 receptions for 807 yards and four touchdowns.
"It was frustrating here and there, but at the same time it's the game of football. You're going to get injured," Jeffery said Jan. 4, one day after a season-ending loss to the Detroit Lions. "You've just got to weather the storm and have great teammates, great coaches."
Jeffery was selected by the Bears in the second round of the 2012 draft. He was voted to the Pro Bowl in 2013 after catching 89 passes for 1,421 yards and seven touchdowns and followed with 85 receptions for 1,133 yards and 10 TDs in 2014.
After the Bears traded Brandon Marshall to the Jets last March, it appeared that Jeffery was primed to become the team's No. 1 receiver. When healthy enough to play, the South Carolina product showed his game-breaking ability, posting four 100-yard games. But injuries forced him to miss the entire preseason and hampered him most of the regular season.
Jeffery is due to become an unrestricted free agent, and the Bears will weigh his production and durability issues when evaluating him.
"When Alshon played, he was explosive and a playmaker for our offense," general manager Ryan Pace said Jan. 4 during his post-season press conference. "The previous two seasons he'd been healthy and highly productive. He was frustrated by his injuries. We were frustrated by his injuries. We've got to get a better grasp of that. Part of the evaluation of a player is his injuries and his availability. We'll take that into account."
Asked at the time whether the Bears would place a franchise tag on Jeffery, Pace said: "It's a tool that we have at our disposal. It's a case-by-case basis. Normally, it's in the best interest of the club and the player to come to a longer-term agreement."
White, meanwhile, is expected to be able to work out without restrictions when the Bears kick off their offseason conditioning program in April.
The Bears are eager to see a healthy White back on the field in 2016. The 6-3, 217-pounder blossomed at West Virginia in 2014, catching 109 passes for 1,447 yards and 10 touchdowns. He opened the season with a school-record seven straight 100-yard games.
"I'm always careful about putting expectations on guys," Pace said last month. "But the good thing about Kevin is he's really intelligent, he's a really hard worker and we treated him really like player 54 this year; traveling with us, being in the meetings, going through that practice period while on PUP. That was beneficial.
"He's gained a lot of confidence. I think he's going to hit things full speed. I'm really excited to kind of unleash Kevin and let everybody see his progress."
With so many injuries in 2015, unheralded receivers Marc Mariani, Joshua Bellamy, Cameron Meredith and Deonte Thompson all stepped in and contributed.
Mariani excelled in the slot role the injured Royal was expected to fill, catching 22 passes for 300 yards. Mariani, who is also due to become an unrestricted free agent, produced first downs on 19 of his 22 catches, including all 11 on third down.
"He's always the guy who is going to work extremely hard," quarterback Jay Cutler said late in the season. "He's going to be where he's supposed to be. I think now he's just getting more attempts because our numbers have dwindled, so out of necessity he's been out there a lot more and he's become a viable option for us."