Football is a family affair for Bears first-round draft pick Kyle Fuller, who follows two older brothers into the NFL, including one who plays for an NFC North rival.
Safety Vincent Fuller appeared in 76 career games over seven seasons with the Titans (2005-10) and Lions (2011), while receiver Corey Fuller was selected by the Lions in the sixth round of last year's draft and spent his rookie season on Detroit's practice squad.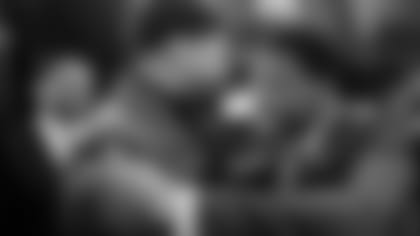 Kyle Fuller (right) celebrates after being selected by the Bears in the first round of the draft.
Another brother, Kendall, is a freshman at Virginia Tech who teamed with Kyle last season. Both earned All-ACC honors, a first for brothers at the school.
"My parents did a real good job of growing us all up," Fuller said Thursday night during a conference call with the Chicago media. "Starting with my oldest brother, I've learned a lot from them. So it's definitely been a blessing for our whole family."
If Corey earns a spot on the Lions roster, the two brothers could go head-to-head twice this season.
"Even before I got the call, he was saying how the [Lions play the Bears] twice," Kyle said. "So he's definitely excited about it and I'll definitely be looking forward to it."
Fuller is also excited about joining the Bears, especially at a position that features the only two cornerbacks in franchise history to be selected to back-to-back Pro Bowls.
"I know Charles Tillman and Tim Jennings are two Pro Bowl corners," Fuller said, "so I'm definitely looking forward to coming in and learning from those guys."
Fuller made a positive impression on the Bears during a Combine interview and a pre-draft visit to Halas Hall. He's familiar with the team's storied history and is eager to become part of it.
"Being able to come in and play for a great organization like the Chicago Bears, it's definitely a blessing and I'm definitely looking forward to it," he said.
Asked about his strengths as a player, Fuller said: "Definitely being a tough and physical player. My ability to be versatile; being able to play corner slot. My ability to tackle. I feel like I have a good knowledge of the game, and then overall just my ability to make plays for my team."
Fuller will be officially introduced at a press conference at 3:30 p.m. Friday at Halas Hall and will return the following weekend to participate in the Bears' rookie minicamp May 16-18.
"I'm definitely looking forward to coming in, continuing to work hard, continuing to get better every day, coming in and learning the defense, and getting behind those veteran guys," he said.