Special teams coordinator Joe DeCamillis was pleased when the Bears signed undrafted free agent Michael Ford and even happier to begin working with the LSU product during rookie minicamp.
Ford, a running back who possesses a rare combination of power and speed, ranked second in the SEC last season in kickoff returns, averaging 27.5 yards on 20 returns. The 5-10, 216-pounder had four kickoff returns of 40 yards or longer, including an 86-yarder against Arkansas.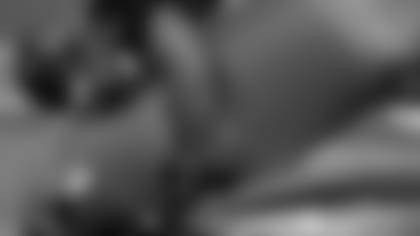 Michael Ford hones his tackling skills during a special teams drill at Bears rookie minicamp.
"He was one of those guys that we targeted and we're glad to have him," DeCamillis said. "He's going to really bring some competition to that position."

The Bears already have two talented veteran return specialists in Devin Hester and Eric Weems. Hester is the NFL's all-time leader with 17 combined kick return touchdowns, while Weems was voted to the Pro Bowl as a special teams player with the Falcons in 2010.

Ford showed his explosiveness at the NFL Scouting Combine in February when he was timed at 4.45 in the 40-yard dash and bench-pressed 225 pounds 25 times.

"He's a straight-line guy who's got great balance and is hard to knock off his feet," DeCamillis said. "When you put up the kind of stats he did in the SEC, you've got some talent and he's got some toughness too. He also played other [special] teams, so it's good that we have him."

Arrow pointing up: Sixth-round draft pick Cornelius Washington, a 6-4, 265-pound defensive end from Georgia, showed promise in Saturday's practice.

"He looks athletic," said defensive coordinator Mel Tucker. "He looks like he can rush a little bit. He's a high motor guy. He only knows one speed and it's full speed, whether it's a walkthrough or whatever. He's a fun guy to coach. He was better [Saturday] than he was [Friday]."

In four seasons at Georgia, Washington appeared in 51 games with 25 starts, recording 76 tackles, 17 tackles-for-loss and 10.5 sacks. Named to the Butkus Award watch list before the 2012 season, he mustered only 22 tackles and half a sack while playing in 14 games with 10 starts as a senior.

Washington played both outside linebacker and defensive end in college. The Bears feel that he possesses an explosive first step and will benefit from lining up at one position, left defensive end.

"He's a guy who improves and takes coaching," Tucker said. "I think he has some upside. We'll see. We'll take it one day at a time with him. But the arrow is up so far with him."

Pumped up: To say that fifth-round pick Jordan Mills, a tackle from Louisiana Tech, was happy to join the Bears would be a gross understatement.

"It's a humbling experience to be here," Mills said, glancing around the Walter Payton Center. "Some of the greatest players that ever played in the NFL walked through these doors, from Dick Butkus to Walter Payton to Mike Singletary to 'Refrigerator' Perry.

"To be here, there's no feeling like it in the world. This is one of the two original organizations that started it all. My mind is blown to be here around these guys and I can't wait to meet the veterans and get under their wing and help this team get to a championship and help this community out."

Next step: After concluding rookie minicamp with a short practice Sunday, the Bears will conduct the first of 10 OTA workouts Monday, mixing veterans with rookies for the first time.

"It is different," Tucker said. "There are more guys. Once the older guys come in, those guys already know what to do a little bit more. I can't wait to start the OTAs, not just to see these young guys but I want to see our veteran players too. So I'm looking forward to next week."