Jack Pardee, who served as Bears head coach from 1975-77, passed away Monday. He was 76.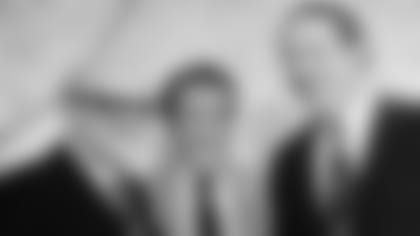 Jack Pardee (far right) worked for George Halas and general manager Jim Finks with the Bears.
A linebacker for 15 seasons with the Los Angeles Rams (1957-70) and Washington Redskins (1971-72), Pardee was hired to replace Abe Gibron as Bears head coach on Dec. 31, 1974.

Pardee compiled a 20-22 record in three seasons in Chicago. In 1977, he led the Bears to a 9-5 mark and their first playoff berth since they won the 1963 NFL championship, closing the season with six straight victories following a 3-5 start.

Last November, Pardee's family revealed that he had been diagnosed with gallbladder cancer and was given six to nine months to live.

"The Bears family was saddened to hear of Jack Pardee's passing," chairman George H. McCaskey said in a statement. "Coach Pardee's time with us was only three seasons, but he made an impact by ending a 14-year playoff drought in 1977. It was a spark that led toward a great decade of Bears football. Our prayers go out to his family."

Pardee served as an NFL head coach with the Redskins (1978-80) and Houston Oilers (1990-94) while also coaching in the World Football League with the Florida Blazers (1974), the United States Football League with the Houston Gamblers (1984-85), and the Canadian Football League with the Birmingham Barracudas (1995) during a failed one-year experiment to expand the CFL into the United States.