Matt Forte has been named one of three finalists for the FedEx Ground Player of the Year Award.
The Bears running back was voted to the Pro Bowl in 2013, ranking second in the NFL in rushing with 1,339 yards and third in yards from scrimmage with 1,933. Both are career highs and the most by a Bears running back other than Hall of Famer Walter Payton.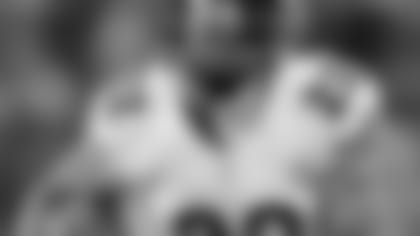 Matt Forte finished the season with 1,339 rushing yards and 12 total touchdowns.
Forte rushed for nine touchdowns, the most by a Bears player since Thomas Jones had nine in 2005. Forte also caught 74 passes for 594 yards and three TDs. The 74 receptions are the most ever by a Bears running back, breaking his own record of 63 set in 2008.
Forte rushed for over 100 yards in four of the last five games of the season, giving him 20 100-yard outings in his career, tying Gale Sayers for the second most in franchise history.
This year Forte became the first player in Bears history to top 1,000 yards as a rusher and 500 yards as a receiver in multiple seasons. He ranks second on the franchise's all-time rushing list with 6,666 yards, trailing only Payton (16,726).
"He's underrated, I think, in the public's eye," quarterback Jay Cutler said after Forte scored three of the Bears' four touchdowns in their season-ending loss to the Packers. "He did a heck of a job for us. I think he's the best all-around in the NFL."
The other two finalists for the FedEx Ground Player of the Year Award are the Chiefs' Jamaal Charles and the Eagles' LeSean McCoy. Fans can vote through Jan. 24 at NFL.com/fedex.
The winner will be revealed during the "3rd Annual NFL Honors" awards show in New York City, a two-hour primetime special to air nationally Feb. 1 on FOX the night before Super Bowl XLVIII.