Kyle Long's versatility and intelligence are two of the ingredients that make the Bears running back a special player to first-year offensive coordinator Adam Gase.
"It's rare to have a guy that can do all three phases of a running back—run the ball, catch it and protect," Gase said Thursday. "You won't find many guys that can do it and you won't find many guys that have that quarterback intellect at that position that are able to stand back there with the quarterback and sort some things out."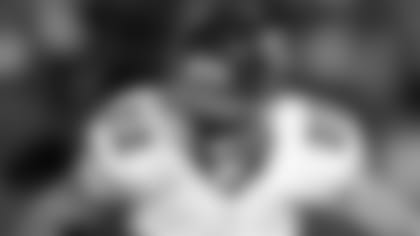 Matt Forte has rushed for 876 yards on 224 carries in 13 career games against the Packers.
Gase's first indication of that came during a preseason game this summer.
"He and [quarterback] Jay [Cutler] were back there getting everybody set up," Gase said. "Jay's telling him something and he's telling the other receiver. That was pretty neat to see as far as his grasp of the offense so quickly and being able to communicate with other guys."
A two-time Pro Bowler, Forte ranks second in Bears history behind Hall of Famer Walter Payton in seven categories: yards rushing (7,704), 100-yard rushing games (23), receptions (443), receiving yards by a running back (3,727), yards from scrimmage (11,431), average scrimmage yards per game (106.8) and games with 150 yards from scrimmage (23).
Last season Forte set the NFL's single-season record for receptions by a running back with 102 and became just the second player in league history to catch 100 passes and rush for 1,000 yards in the same season, joining LaDainian Tomlinson.
Rookie on the rise: Gase is also impressed with rookie running back Jeremy Langford. Asked what he learned about the fourth-round pick during the preseason, Gase said: "His ability to create explosive plays. That's something that stands out. He had a couple of our big runs. His ability to catch the ball. You see Matt do it so effortlessly and Jeremy has that ability as well. So we'll keep growing him and seeing what we can get out of him this year."
Langford led the Bears in rushing in the preseason with 153 yards and one touchdown on 28 carries, with a long of 46 yards against the Colts.
Health update: The Bears injury report remained the same from Wednesday to Thursday, meaning that receiver Alshon Jeffery was among those who once again practiced on a limited basis.
"He looks pretty functional," said coach John Fox. "He looks good. We're just taking it one day at a time and see what that brings us. We'll evaluate him and see what he's able to do tomorrow."
Like Jeffery, fellow receivers Eddie Royal (hip) and Marquess Wilson (hamstring) and linebacker Jonathan Bostic (ankle) were limited; linebacker Sam Acho (illness) and cornerback Tracy Porter (hamstring) sat out; and defensive tackle Eddie Goldman (concussion) and quarterback Jimmy Clausen (concussion) practiced without restrictions.
Long fan: Cutler appreciates offensive lineman Kyle Long's approach to the game.
"It's important to him," Cutler said. "He's out here, he's trying to do the best he possibly can and he takes this seriously. Anybody that takes it that seriously—there are a lot of guys like that on the team—you're going to be fond of."