EAST RUTHERFORD, N.J. – The Bears' rushing attack was stuck in neutral against the Giants' No. 1 defense Friday night, but running back Matt Forte![](/team/roster/matt-forte/4b36c279-8a58-41a0-8ab4-8a11803586e1/ "Matt Forte") is confident that better days are ahead.
Playing against New York's starters in the first half, Forte mustered only four yards on eight carries and backup Michael Bush gained just two yards on one attempt.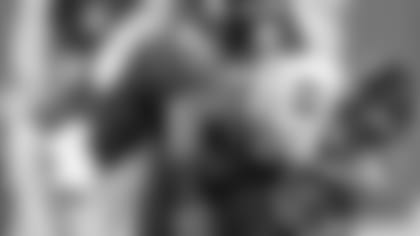 Bears running back Matt Forte rushed for 39 yards on 10 carries in Friday night's 20-17 preseason win over the Giants.
"We didn't really execute too well tonight," Forte said following the Bears' 20-17 preseason win at MetLife Stadium. "I thought we did pretty good in the passing game, but once you can't get the running game going in the first half then that kind of shuts down the passing game.
"On one hand we did block pretty well in the passing game. But we've got some stuff to work on. The running game always takes longer. That's why we play preseason games I guess."
Asked what was wrong with the rushing attack early, coach Lovie Smith said: "We're trying to figure that out still. Some nights you've got to give [the opponent] credit too. They have a good front four. They have a good front seven. They played excellent defense today. [Giants defensive coordinator] Perry Fewell does a great job with their defense.
"You just have to stay committed to the run, which we'll do. Some days you won't be able to rush for over 100 yards or 200 yards, but we'll keep pounding it."
Forte had some success on the Bears' first series of the second half, gaining 24 and 11 yards on back-to-back carries against the Giants' No. 2 defense. He finished with 39 yards on 10 attempts.
"We've got to get the running game going," quarterback Jay Cutler said after the game. "We've got to get Matt going. We're not going to be a successful offense if we can't run the ball."
Protection plan: While the run game struggled, the Bears offensive line provided solid pass protection against the defending Super Bowl champions, not allowing Cutler or backup Jason Campbell to be sacked on 40 combined pass attempts.
"I think the protection was OK," Smith said. "They got some decent pressure at times, but I was fairly pleased—before we watch the video—with the pass protection."
Left tackle J'Marcus Webb and left guard Chris Spencer played on all three of the Bears' first quarter possessions before Chris Williams replaced Webb and Chilo Rachal rotated in for Spencer. Webb and Spencer later returned before being replaced again by Williams and Rachal.
After fielding questions about Webb throughout the week, Smith was asked about the third-year pro again following Friday night's game.
"Sometimes I wonder if you're watching any other part of the game except for J'Marcus," Smith said. "He's got a lot of fans, but it's more than just him out there. I think overall the line did a decent job pass protecting."
The only sack the Bears gave up in the game came when third-stringer Josh McCown was dropped by defensive end Adewale Ojomo for a five-yard loss late in the fourth quarter.
No worries: Smith insisted that he isn't concerned about Charles Tillman after the veteran cornerback struggled against Giants receiver Ramses Barden.
On back-to-back possessions in the second quarter, Barden beat Tillman on a quick slant for an 11-yard touchdown reception from Eli Manning, and then drew a pass interference penalty on Tillman in the end zone, setting up Andre Brown's 1-yard TD run on the next play.
"Everybody has a rough night some time," Smith said. "Charles didn't play as well as he's capable of playing. I'm just going to say that. He's a good football player, and he's going to play great football for us this year."
Stepping up: Safety Anthony Walters secured the win by deflecting a David Carr pass to cornerback Isaiah Frey, who intercepted the ball in the end zone with 1:06 to play. [ ](http://www.phoenix.edu/campus-locations/il.html?utmsource=Story&utmmedium=instory&utmcampaign=300x100)
"It was close," Walters said. "It was a fine line between getting beat and making a play. They really stretched the formation. They had three guys over there and two of them went in the end zone.
"That was my zone right there. From a technical standpoint, all we have to do in that position is play the quarterback and play the ball. Fortunately, I was in a position to do that."
Determined to step up his game with safeties Chris Conte (shoulder) and Brandon Hardin (neck) sidelined with injuries, Walters was ecstatic to preserve the Bears' three-point victory.
"It was extremely exciting," he said after the game. "They were in field-goal range, so we could still be playing overtime right now. To make that kind of play in that kind of moment is great. Thanks to Frey. He played his coverage well also and made the catch."