Matt Forte showed his versatility in Sunday's training camp practice, sprinting around right end with a handoff on one play and catching a short pass from Jay Cutler on another.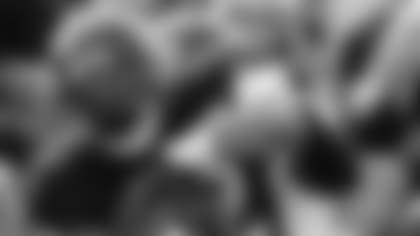 From 2008-11, Matt Forte became the first player in NFL history to compile at least 900 yards rushing and 400 yards receiving in each of his first four seasons.
After not being as involved in the passing game last year as he had been in his first four seasons, the Bears running back is eager to get more opportunities to catch passes this year.
"It's a different way of actually kind of like running the ball," Forte said. "After you catch it, you've got to run with it. So instead of handing it off you get the ball out in space and that just gives you more opportunity to make big plays."
From 2008-11, Forte became the first player in NFL history to compile at least 900 yards rushing and 400 yards receiving in each of his first four seasons. That streak was snapped last year when he was limited to a career-low 44 receptions for 340 yards.
Forte is optimistic that his role as a receiver will expand again this season. He's certainly aware that Raiders running back Charlie Garner caught 91 passes for 941 yards in 2002 when Bears coach Marc Trestman was Oakland's offensive coordinator.
"It's not really a new role," Forte said. "It's not like I haven't done it before. I'm just excited about getting back to getting out of the backfield and running routes and catching balls and not only just running the ball and getting handoffs but getting the ball out in space."
Forte is equally excited about running the ball this season behind a revamped offensive line. During the offseason the Bears signed left tackle Jermon Bushrod and guard Matt Slauson in free agency and selected guard Kyle Long with the 20th overall pick in the draft.
"I think we're going to be a lot more solid up front," Forte said. "It'll work its way out in camp who's going to be starting. But just to have a solid five guys up front instead of having parts changing in and out … we've had guys from tackle move to guard and then move in the middle of the season to the other side of the [line], which is difficult.
"Those guys have to play together and get in a groove with each other, knowing where to block and how the other player next to him blocks. To have five solid guys up front I think is going to really help us out on the front line."
Forte feels that developing cohesiveness is key to an offensive line's success.
"The line is like a machine," he said. "When you put a different part in there it's going to work different. When those guys are playing through training camp together, then preseason, by the time we get to the first game they should have a routine under their belt and know how to work together up front."
Forte has been ultra-productive since joining the Bears in 2008 as a second-round draft pick from Tulane. After just five seasons, he ranks fourth on the franchise's all-time list in rushing (5,327 yards) and third in yards from scrimmage (7,652) and 100-yard rushing games (15).
In terms of personal goals, Forte enters every season shooting for 1,000 yards "at the least, bare minimum."
"I know whatever comes after that, catching the ball and all that stuff, will come after that," he said. "I don't really set a specific number. I just want to get as much as possible. One of my main goals is to lead running backs in all the categories: catching the ball, receiving touchdowns; all that stuff. If I can do that that means I'm doing good."