While learning a new offense has almost become an annual ritual for Matt Forte, the Bears running back is excited about the system that's being installed by first-year head coach Marc Trestman.
"We've had a lot of playbooks come through here, but I like this offense," said Forte, who is working under his fourth coordinator in the last five seasons. "I expect it to be balanced. Establish the run first and then get into the passing game. The ball's going to be spread around pretty well."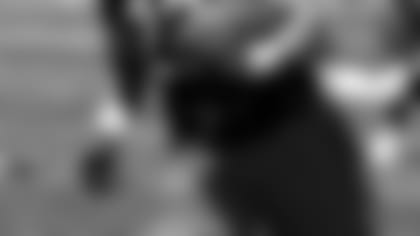 Matt Forte carries the ball during the Bears' OTA practice Tuesday at Halas Hall.
After playing in offenses operated by Ron Turner (2008-09), Mike Martz (2010-11) and Mike Tice (2012), Forte is working with Trestman and first-year coordinator Aaron Kromer. In their scheme, the veteran running back is expected to know more than just his own responsibilities.
"It's very tough," Forte said of the playbook. "There are a lot of different positions you have to learn. Even if you play tailback you've got to learn the 'F' and the 'H.' It's tough to learn where to line up and then learn the routes and the concepts, so you've got to study every day.
"It's more challenging to me personally. It's easy to learn what you do, but to have to learn the concepts of what the receiver's doing and why I have to run this route to get that open, it makes it more difficult but also more intriguing."
Forte has been ultra-productive since joining the Bears in 2008 as a second-round draft pick from Tulane. After just five seasons, he ranks fourth on the franchise's all-time list in rushing (5,327 yards) and third in yards from scrimmage (7,652) and 100-yard rushing games (15).
The 6-2, 218-pounder has also excelled as a pass-catcher out of the backfield, ranking third among NFL running backs in receptions (267) and receiving yards (2,325) since he entered the league.
After averaging 56 receptions and 496 yards while catching eight touchdown passes over his first four seasons, Forte wasn't utilized as much as a receiver last year, compiling a career-low 44 catches for 340 yards and 1 TD.
Forte thinks that his role as a receiver will expand again this year. He's certainly aware that Raiders running back Charlie Garner had over 90 catches-91 for 941 yards to be exact-in 2002 when Trestman was Oakland's offensive coordinator.
"I would expect so," Forte said. "Coach Trestman said he watched a lot of film on me and has seen me run different routes, so I think we'll get back to catching the ball out of the backfield like we did the prior years before."
Last season receiver Brandon Marshall was voted to the Pro Bowl after smashing Bears single-season records with 118 catches and 1,508 yards. But the offense still struggled, ranking 28th in total yards and scoring more than two touchdowns in only four of 16 games.
"Brandon had a lot of catches and everybody else really didn't have a whole lot," Forte said. "We were kind of one-dimensional last year. There's going to be an emphasis for us this year to spread the ball around so it's balanced and the defense can't just focus on one guy or one position."
The offense also should receive a boost from the offseason upgrades that were made to the line; the Bears signed left tackle Jermon Bushrod and guard Matt Slauson in free agency and spent their first-round draft pick on Oregon guard Kyle Long.
"You always want to see the line get bolstered up right because that's where it all starts in the passing game and the running game," Forte said.
"The past couple years we've been having the same guys, but switching spots. Somebody who's playing tackle might move to guard and then move on the other side to tackle. It will be important to have five guys there who start the year and just stay [in place] so they can work together."