Matt Forte missed practice Wednesday with a knee injury he sustained in last weekend's loss in St. Louis, but the Bears running back is expected to play Sunday in Minnesota.
"I'm still optimistic," said coach Marc Trestman. "I feel pretty good that he'll start getting some work [Thursday]. We'll see where he's at, but I'm optimistic about that."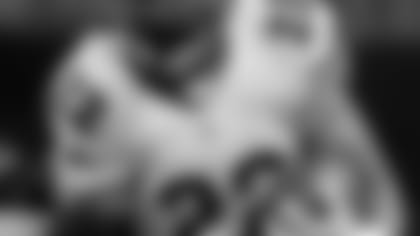 Matt Forte ranks sixth in the NFL in rushing with 851 yards and 7 TDs on 191 carries.
Forte gained 77 yards on 16 carries against the Rams, surpassing Neal Anderson to become the Bears' second all-time leader rusher behind legendary Hall of Famer Walter Payton. Forte still needs 13 yards to pass Anderson to move into second behind Payton in yards from scrimmage.
If Forte can't play Sunday, he would be replaced by Michael Bush and Michael Ford.
"I don't think that's going to happen, but I can say that we'd have the two Michaels up and they would be working together in tandem at the running back position," Trestman said. "Michael [Ford] would be up for the game special teams-wise as he has been the last few weeks."
Quarterback Jay Cutler (ankle) and linebacker Lance Briggs (shoulder) have been ruled out of the game. Cornerback Derrick Martin (hamstring) and safety Anthony Walters (groin) also did not practice Wednesday.
Defensive tackles Stephen Paea (toe) and Jeremiah Ratliff (groin) practiced on a limited basis, but their status for Sunday's game is not known. When the Bears finally do get them back on the field, it should provide a huge boost for a struggling run defense.
"Jeremiah has been a starter in this league and has been a highly effective player in this league," Trestman said. "We don't really know where he's at right now. But we're feeling good in some of the things we're seeing. We feel like he can make a difference for us. He's certainly fitting in with our locker room well.
"And Stephen we know has been a starter here and has had this lingering issue with his toe. He got some work today and we'll know a little bit more as we proceed during the week."
For the Vikings, running back Adrian Peterson (groin), cornerbacks Xavier Rhodes (concussion) and Josh Robinson (chest), tight end Kyle Rudolph (foot) and receiver Joe Webb (concussion) did not practice, while defensive tackle Kevin Williams (quadriceps) was limited.