Eight days after signing a four-year contract with the Bears, an excited and relieved Matt Forte
arrived at training camp Tuesday eager to catch up with his teammates.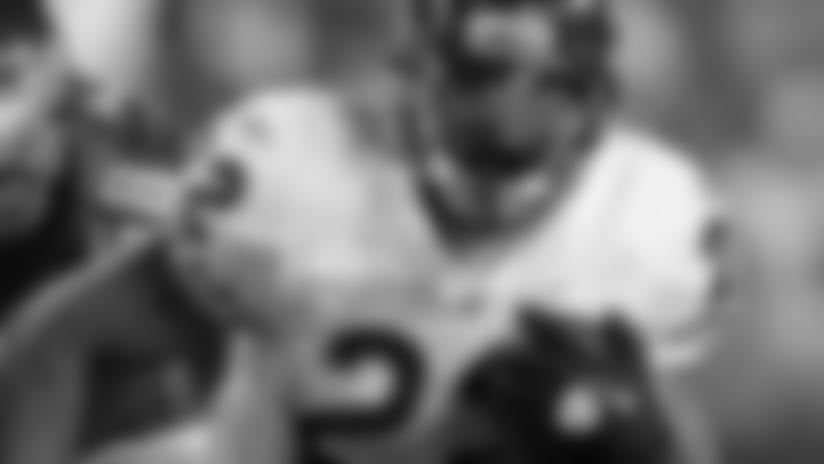 Matt Forte was selected by the Bears in the second round of the 2008 NFL Draft.
"It was very important to be back here," said the Pro Bowl running back. "It feels good to be back and see the guys. A lot of people look different now. I haven't been [around the team] in six months. I haven't seen the guys, so it's nice to see them."
Forte signed his contract July 16, the final day the Bears were allowed to ink him to a long-term deal under terms of the NFL's collective bargaining agreement. In March, the Bears had placed a franchise tag on Forte, meaning that he would have earned $7.749 million for the 2012 season.
"It wasn't really difficult," Forte said. "I played last year during the contract situation. I was prepared to do it again if I had to, if it came down to that. It wasn't really that difficult, but it is relieving to not have to worry about that now and just go and play football."
A 2008 second-round draft pick from Tulane, Forte is the only player in NFL history to compile at least 900 yards rushing and 400 yards receiving in each of his first four seasons.
In 2011, he became the first Bears running back to be voted to the Pro Bowl since Neal Anderson in 1991, despite missing the final four games with a sprained MCL in his right knee. At the time of his injury, Forte led the NFL with 1,487 yards from scrimmage and was third in rushing with 997 yards.
Although he missed the entire offseason program, Forte is confident that it won't take him long to get in football shape or learn first-year coordinator Mike Tice's offense.
"I've been working out the whole time. It's not like I've been sitting on the couch watching everybody on TV," Forte said. "It's the same exact running game as last year, maybe a few different nuances. The main thing is to get in tune with the passing game and the protections. That won't take a whole lot of time to get used to, so I'm ready for that too."
Forte is also excited about rejoining an offense that was bolstered during the offseason with the additions of receivers Brandon Marshall, Alshon Jeffery, Eric Weems and Devin Thomas; running back Michael Bush and quarterback Jason Campbell. [
](http://www.phoenix.edu/campus-locations/il.html?utmsource=Story&utmmedium=instory&utmcampaign=300x100)
"We've got a lot of weapons on offense now and a lot of ways to move the ball down the field," Forte said. 
"It's just exciting to look to the left and look to the right and see other guys that can do things with the ball, and the fact that the defense can't harp on one thing. They can't just harp on the run, or they can't just blitz us and think that we don't have the receivers that can go up and get the ball. So it's exciting for everybody."