After missing the last three games with a knee injury, Bears running back Kyle Long hopes to return to action Thursday night against the Packers in Green Bay.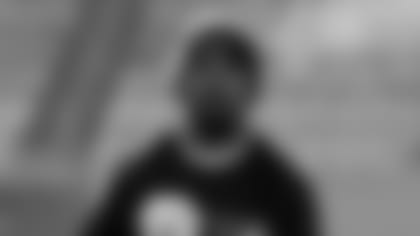 Bears running back Matt Forte hopes to return to action Thursday night against the Packers.
Forte practiced on a limited basis Tuesday.
"I felt pretty good," he said. "I was running full speed because I wanted to get the feeling and timing of making cuts and doing all that stuff. I did that before the pre-game on Sunday as well and I felt good. I'm good enough to go."
Before sitting out the last three weeks with an injury he sustained against the Vikings, Forte had missed only five of 119 games in his eight seasons with the Bears.
"I'm excited just to get back out there," Forte said. "Not really a lot of fun watching the games and doing all that and not be able to help your team win. I'm not really used to that. But it's going to be fun to get back out there on the field and help us out."
This season Forte has rushed for 548 yards and two touchdowns and caught 25 passes for 219 yards and one TD. His 141-yard outing in a Week 1 loss to the Packers has been the only 100-yard game by a Bears running back this year.
Surprised by miscue: Offensive coordinator Adam Gase is still upset by the lack of communication that occurred on the Bears' failed two-point conversion late in Sunday's 17-15 loss to the Broncos.
"That one bothers me, the fact that we were not on the same page on that," Gase said. "When you practice those plays as much as we do ... it kind of surprised me that we didn't execute that the way we all thought we were going to.
"So it's just going back and trying to put guys in a better position as far as, 'Here are our options. Let's make sure that we're doing a better job of communicating, make sure everybody's on the same page.' It's a little frustrating because we've been in that situation before. We've checked plays before and we haven't had an issue and then all of a sudden at a critical time we have an issue.
"It's an unacceptable thing for us to have happen in that part of the game. We had a chance to put our team in position to go to overtime and we failed our team."
Injury update: Receiver Eddie Royal (knee), running back Ka'Deem Carey (head) and safety Antrel Rolle (knee) did not practice Tuesday.
In addition to Forte, tight end Martellus Bennett (ribs), receiver Alshon Jeffery (groin), safety Sherrod Martin (neck), outside linebacker Pernell McPhee (knee) and inside linebacker LaRoy Reynolds (knee) were limited.
The Packers list 16 players on their injury report, including all five starting offensive linemen. Center Corey Linsley (ankle) did not practice Tuesday, while left tackle David Bakhtiari (knee), left guard Josh Sitton (knee), right guard T.J. Lang (shoulder) and right tackle Bryan Bulaga (knee) were all limited—as was outside linebacker Clay Matthews (ankle/knee).
Roster moves: The Bears on Tuesday signed quarterback Justin Worley and linebacker Danny Mason to their practice squad. Worley is an undrafted rookie from Tennessee, while Mason spent some time with the Broncos earlier this year after also entering the league as an undrafted free agent.
One day after being waived by the Bears, quarterback Jimmy Clausen on Tuesday was claimed by the Baltimore Ravens, who lost starting quarterback Joe Flacco for the season with a torn ACL Sunday. Clausen will reunite with former Bears coach Marc Trestman, who is the Ravens' offensive coordinator.