The following is the second of nine position previews in advance of training camp.
Matt Forte will head to training camp at Olivet Nazarene University in Bourbonnais looking to build on one of the best seasons by a running back in Bears history.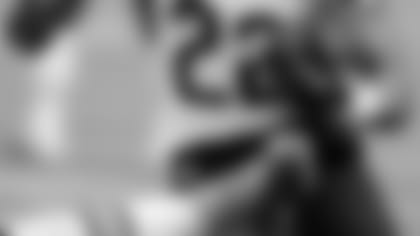 Matt Forte tallied 1,339 yards and nine touchdowns in 2013.
Last year the former Tulane star ranked second in the NFL in rushing with 1,339 yards and third in yards from scrimmage with 1,933 yards. Both are career highs and the most by any Bears player other than Hall of Famer Walter Payton.
Forte rushed for nine touchdowns in 2013, the most by a Bears player since Thomas Jones had nine in 2005. Forte also caught 74 passes for 594 yards and three TDs. The 74 receptions are the most ever by a Bears running back, breaking his own record of 63 set in 2008.
Forte rushed for over 100 yards in four of the last five games of the season, giving him 20 100-yard outings in his career, tying Gale Sayers for the second most in franchise history.
Voted to the second Pro Bowl of his career, Forte became the first player in Bears history to top 1,000 yards as a rusher and 500 yards as a receiver in multiple seasons. He ranks second on the franchise's all-time rushing list with 6,666 yards, trailing only Payton (16,726).
Much like the quarterback position with Jay Cutler, there will be a fierce competition for backup positions at running back in training camp. The candidates include Ka'Deem Carey, Shaun Draughn, Michael Ford, Jordan Lynch and Senorise Perry.
Asked to name the favorite for the No. 2 spot on the depth chart, coach Marc Trestman said: "I don't know that there is right now. We've got a really good competition."
The Bears selected Carey in the fourth round of this year's draft. He was very productive in three seasons at Arizona, where he became the school's all-time leader in rushing yards (4,239), rushing touchdowns (48) and all-purpose yards (5,483).
The 5-9, 207-pounder was a consensus All-America selection each of his final two years. He rushed for at least 100 yards in each of his final 16 games at Arizona dating back to 2012, the longest streak in Pac-12 history.
In his first full season as a starter in 2012, Carey led the FBS in rushing with a school-record 1,929 yards and 23 touchdowns on 303 carries while also catching 36 passes for 303 yards and 1 TD. He set a Pac-12 record with 366 yards while scoring five TDs against Colorado.
"We got ourselves a heck of a football player," Trestman said. "He loves football. He's passionate about it. He's tough. He's been extremely productive. He's all-purpose. We view him as a three-down back who can play in any situation and run routes out of the backfield and certainly run inside and outside, so we're excited about him."
A star quarterback at Northern Illinois, Lynch is battling for a job at running back with the Bears. Lynch passed for 3,138 yards and 25 touchdowns in 2012 and 2,892 yards and 24 TDs when he finished third in Heisman Trophy voting and was named the MAC offensive player of the year.
Carrying the ball is nothing new for Lynch, however. At NIU, he rushed for 1,815 yards and 19 touchdowns in 2012 and 1,920 yards and 23 TDs in 2013. Last season Lynch broke his own FBS record for quarterbacks by rushing for 321 yards in a win over Western Michigan.
"We have a logjam from 2 to 5 and Jordan is in that logjam," Trestman said. "A lot of that is going to be balanced out with special teams and other aspects of it. I'm looking forward to seeing him in pads and seeing these younger guys play in the games and competing both at the running back position and at the special teams side of it."