Running back Matt Forte and receiver Brandon Marshall—two key members of the Bears' much-improved offense—have been voted to the Pro Bowl.
Forte ranks fourth in the NFL in rushing with 1,229 yards and seven touchdowns on 267 carries and is third in the league with 1,776 yards from scrimmage, having caught 70 passes for 547 yards and 2 TDs. The 70 receptions are the most ever by a Bears running back.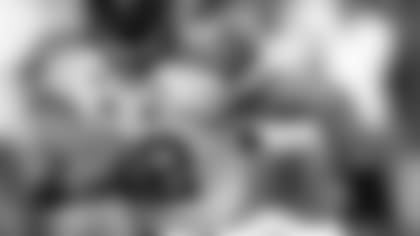 Bears running back Matt Forte was selected to the second Pro Bowl of his six-year NFL career.
This year Forte became the first player in Bears history to top 1,000 yards as a rusher and 500 yards as a receiver in multiple seasons. He ranks second on the franchise's all-time rushing list with 6,556 yards, trailing only Hall of Famer Walter Payton (16,726).
Forte has now been voted to two Pro Bowls since joining the Bears in 2008 as a second-round pick from Tulane. He was also selected in 2011 when he rushed for 997 yards in 12 games.
"It's a blessing to be selected to the Pro Bowl for a second time," Forte said. "God has blessed me so much and I'm thankful for his grace on and off of the field. I'd like to thank the many fans, friends and family for voting for me. But more importantly, I'm thankful to my teammates that helped me to achieve success on the field, especially my offensive linemen who work hard blocking for me every day and receivers who unselfishly work hard down field blocking for me."
Marshall is tied for fifth in the NFL with 94 receptions and ranks 11th with 1,221 yards. He leads the Bears with 11 TD catches and six 100-yard games. In two seasons in Chicago, Marshall is second in the league with 212 receptions, fourth with 2,729 yards and tied for fourth with 22 TDs.
Marshall has now been selected to five Pro Bowls in eight NFL seasons, including two in as many years with the Bears. Last season he became only the second Bears receiver to be selected to the Pro Bowl since Dick Gordon in 1971, joining Marty Booker in 2002.
Marshall recently urged voters to select Bears teammate Alshon Jeffery, but the second-year receiver was not chosen. Jeffery ranks sixth in the NFL among receivers with 1,341 yards and is tied for eighth with 86 receptions. He has recorded the two most prolific receiving games in Bears history this season with 249 yards against the Vikings and 218 yards versus the Saints.
The two Pro Bowl selections are the fewest for the Bears since 2009 when linebacker Lance Briggs and kick returner Devin Hester were chosen. This season marks the first time since 2004 that the Bears did not have a defensive player voted into the Pro Bowl.
For the first time ever, the Pro Bowl was not determined by conference. Gone is the familiar AFC vs. NFC match-up that has existed since 1971. Instead, players were selected without regard to conference in voting by fans, coaches and players.
Players will be split into two teams via the first-ever Pro Bowl draft Jan. 22. The game will be played at Aloha Stadium in Hawaii on Jan. 26, the Sunday before the Super Bowl.