Bears running back Kyle Long has been selected the NFLPA Community MVP for Week 3.
The award recognizes players who are making a positive impact in their local communities. Each week, the NFLPA celebrates one player who recently demonstrated his commitment to giving back to his community, and makes a donation to the player's foundation or cause in support.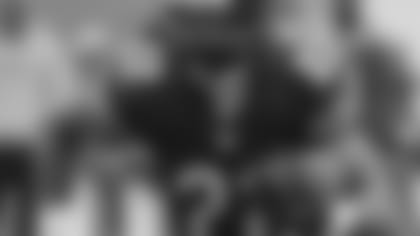 Running back Matt Forte has been voted to two Pro Bowls in seven seasons with the Bears.
Last Tuesday Forte surprised students who were participating in the Chicago area's Kids Foot Locker Foundation Fitness Challenge. The six-week program challenges kids at 10 local Boys & Girls Clubs to lead active and healthy lifestyles, and Forte helped get them out the gate running.
"Honestly, I feel that it is my responsibility to give back to this community, especially the areas in Chicago that need it the most," Forte said. "I know that I am a role model to a lot of kids, and I want to lead by example."
Forte, who established The Matt Forte "What's Your Forte?" Foundation in 2013 to empower at-risk youth, spoke to the kids at the event about the importance of participating in physical activities, focusing on their studies and making the right choices.
The event was part of the Pro Bowl running back's established game plan of giving back to youth in his team city this month. On September 5, in preparation for the upcoming school year, his "What's Your Forte?" Foundation hosted its inaugural "Back to School 'Kicks' and Backpack Giveaway."  
At the giveaway, Forte provided more than 200 kids with backpacks, school supplies, sneakers and other clothing items to Chicago-area youth who are involved with the Noah's Arc Foundation on the south side of Chicago. The foundation, established by Bulls center Joakim Noah, promotes non-violence and positive change in Chicago through arts and sports. Forte built strong relationships with many of the kids through his regular involvement with Noah's Arc's flag football program, which sparked him to do the giveaway.
"The most memorable part was seeing all the kids' faces when they got their shoes and backpacks," Forté said. "I could feel their excitement and I was excited for them. It's a great feeling to give back."
Forte knew he wanted to do something special for the students and decided to send them back to school in style, knowing their families may not be in the financial position to purchase new clothes and supplies. The running back said he believes in the "reality that presentation matters."
He hopes that by filling this void, he can help remove the stigma that many of these children face upon returning to school each year. Nike and Foot Locker helped Forte put on what he intends to make an annual event.
"Education is a priority for me and the core focus of my foundation," Forte said. "I remember asking my parents to buy me a fresh pair of sneakers for the first day of school. Many of the families of these kids are not able to provide their kids with that new pair of sneakers. I wanted to help start their school year off on a positive note which will hopefully allow them to get in the mindset to focus and prioritize their studies."
Now entering his eighth season with the Bears, Forte has built strong roots in the Chicago community and wants to push local students to achieve their dreams of higher education by providing a variety of resources, including mentoring, counseling, tutoring and academic scholarships. The Foundation's mission is "to encourage and support Chicago-area youth who have demonstrated a desire to achieve the fullness of their capabilities."
After its successful events to start to the school year, the "What's Your Forte?" Foundation next has its eyes on helping families during the holiday season.
"My foundation has a turkey giveaway planned for the Thanksgiving holiday, as well as another event scheduled around Christmas," Forte said. "I have been blessed to be in this position as an NFL player to use my platform to give back in a meaningful way. I want to be as involved and impactful as I possibly can."