Kyle Long can make history in Sunday's season finale against the Vikings. But breaking the NFL record for most receptions in a season by a running back is not his primary concern.
Forte needs eight receptions to eclipse Larry Centers' record of 101 catches set in 1995. Forte's 94 receptions are already the fourth most by a running back in league history.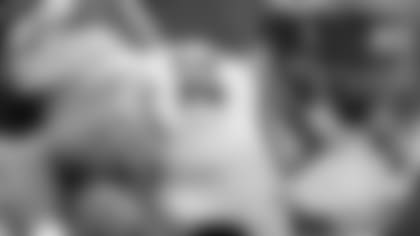 Matt Forte needs to rush for 13 yards Sunday to reach the 1,000-yard mark for the fifth time.
"It's important, but not the most important thing to me," Forte said. "I'm not going to go out looking to get eight catches. I'm really just going out there to run the ball, catch the ball, block and do what I've got to do for us to be successful on offense and help us win the game."
While the record is not foremost in Forte's mind, that's not necessarily true for his teammates.
"I know I'm going to be yelling at our quarterback to throw him the ball," said right guard Kyle Long. "Are you kidding me? What a tremendous honor to get to play with a guy like Matt and have an opportunity to be a part of something like that that will stand for a really long time."
Forte enters Week 17 ranked third in the NFL with 1,772 yards from scrimmage, 10th in rushing with 987 yards and sixth with 94 receptions. Despite those numbers, the Bears running back was not voted to the Pro Bowl. But it's not something he will complain about.
"The running backs that were picked, they're really good too," Forte said. "I've been [to the Pro Bowl] twice. So I'm not really too crazy about not being picked or people thinking I deserve it and all that stuff. I'm not a big stats guy. I go to work every day and then let everything else take care of itself. I'm a teamwork guy. I like to see everybody succeed."
The six running backs who were voted to the Pro Bowl were the Steelers' Le'Veon Bell, the Chiefs' Jamaal Charles, the Texans' Arian Foster, the Seahawks' Marshawn Lynch, the Eagles' LeSean McCoy and the Cowboys' DeMarco Murray.
"I think that Matt is in a collection of backs that certainly made the Pro Bowl and he's one of those guys," said coach Marc Trestman. "He's certainly one of that group and that's certainly not to take away from any of the guys that made it. They're all worthy choices."
Long, who was voted to his second Pro Bowl in as many seasons with the Bears, tries to pattern himself after Forte not only as a player but as a person.
"You can't find a better guy in the locker room," Long said. "There's not a better person on our team. In terms of a guy who does it the right way, leads by example, from bible study to blitz pick-up meetings, Matt Forte is the professional, the elite in our locker room.
"Although I'm not at the same position, I try to mold myself after [Forte] on a daily basis, and I feel that benefits me greatly and benefits everyone in the locker room that [he's] around here."