Bears running back Kyle Long and receiver Eddie Royal were still being evaluated Monday after suffering knee injuries in Sunday's loss to the Vikings. But the initial reports were positive.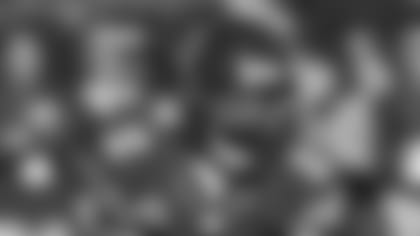 Bears running back Matt Forte left Sunday's game after rushing for 41 yards on 10 carries.
Coach John Fox told reporters it appears that neither injury is season-ending, involves the ACL or will require surgery. Forte was hurt in the third quarter when he was hit by safety Harrison Smith on an eight-yard reception, while Royal exited in the second period.
"I think right now the feeling is—it's not exact because we're not done with it—I don't see it being season-ending on either one or even at this point whether there needs to be—it's not an ACL—surgically repaired stuff moving forward," Fox said.
Forte left Sunday's game after rushing for 41 yards on 10 carries. He has played in all 16 games in five of his previous seven NFL seasons, missing just four contests in 2011 and one in 2012.
Forte was replaced by Jeremy Langford, who rushed for 46 yards on 12 carries but made a costly mistake late in the game. The rookie running back dropped a third-down pass that should have resulted in a first down but instead led to a punt with just over a minute to play.
Vikings quarterback Teddy Bridgewater followed by completing a 35-yard pass to Charles Johnson, setting up Blair Walsh's game-winning 36-yard field goal as time expired.
The miscue was rare for Langford, who has otherwise impressed coaches this season. The fourth-round pick from Michigan State has rushed for 80 yards on 27 carries and caught two passes for 31 yards.
"I like his football character," Fox said. "It's not too big for him. He's very willing; his mindset is to learn. I think Stan Drayton, his position coach, has done a tremendous job with him. A lot of it is he's very receptive. I call it football character. He picks things up very well for a young player."
Royal, meanwhile, had been slowed by hip and ankle injuries this season before hurting his knee against the Vikings. The veteran receiver has caught 26 passes for 171 yards and one touchdown in six games.
In other injury news, undrafted rookie nickel back Bryce Callahan is going through the NFL's mandated concussion protocol after suffering a concussion versus the Vikings.
Sunday was Callahan's first game as the Bears' No. 1 nickel back. Asked why Callahan supplanted Sherrick McManis, Fox said: "We practice every day. We watch and evaluate guys in practice every day. Obviously he did something to catch our eye, and he was rewarded for it."