The speed training that Bears running back Kyle Long added to his workout regimen during the offseason is already paying dividends in training camp.
The eight-year veteran worked in Florida this spring with Pete Bommarito, a highly regarded trainer who had helped Forte prepare for the NFL Combine in 2008.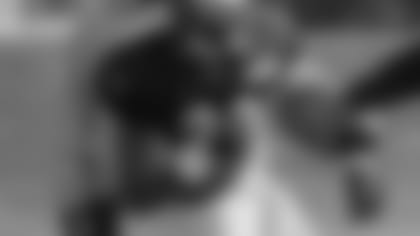 Matt Forte receives the hand-off at practice.
"Last year I didn't do it and I felt like towards the middle and end of the season I didn't have that first burst, or that quick burst or acceleration when I saw holes," Forte said. "So I went back there this offseason and did a lot of the stuff I did before going through it, and even today when I reversed through the hole I felt better than I did the previous year."
Forte was selected by the Bears in the second round of the 2008 draft out of Tulane. The 6-2, 218-pounder has been consistent, durable and productive throughout his career, rushing for at least 1,000 yards in five of seven seasons, including the last three straight.
A two-time Pro Bowler, Forte ranks second in Bears history behind Hall of Famer Walter Payton in seven categories: yards rushing (7,704), 100-yard rushing games (23), receptions (443), receiving yards by a running back (3,727), yards from scrimmage (11,431), average scrimmage yards per game (106.8) and games with 150 yards from scrimmage (23).
Last season Forte set the NFL's single-season record for receptions by a running back with 102 and became just the second player in league history to catch 100 passes and rush for 1,000 yards in the same season, joining LaDainian Tomlinson.
While Forte is proud of the record, he's also eager to play in what's expected to be a more balanced offense this season under first-year coach John Fox and coordinator Adam Gase.
"It'll look entirely different probably," Forte said. "We threw the ball a lot last year. Catching 100 balls is not my goal as a running back. Coach Fox loves to run the ball and establish the run. Plus if you're running the ball and you can run it effectively, you can control the clock and keep other offenses off the field, which is what we want to do. If we can control the pace of the game and grind out tough yards and score, then that's what we're going to do."
Forte is excited about the new attitude and culture that Fox and general manager Ryan Pace have brought to the Bears since they were hired in January.
"You felt it immediately, even in OTAs," Forte said. "The coaching staff is a lot different, the mentality is a lot different and the scene is a lot different.
"There are a lot of new faces as well, but a lot of guys who are striving towards the same goal, which is what you want. If you have guys that have high character and integrity and who also want to succeed on the field, you can't ask for more than that."