Running back Matt Forte practiced Wednesday for the first time since spraining his ankle Sept. 13 against the Packers and is optimistic he'll be able to play Monday night when the Bears visit the Dallas Cowboys.
"I just did individual [drills]" Forte said. "It wasn't a very long practice, so I just wanted to see how I felt today. I went through all the routes and everything. I can sprint, so I think I'll be good to go."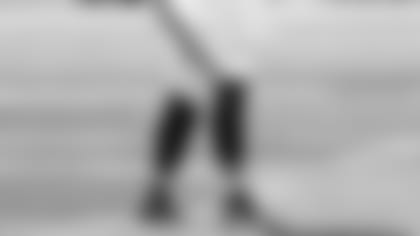 The return of Matt Forte would give the Bears offense a big boost Monday night.
Forte was injured early in the third quarter of a Week 2 loss in Green Bay. In just over a game and a half of action this season, the Pro Bowl running back has rushed for 111 yards and one touchdown on 23 carries and caught seven passes for 89 yards.  
Forte is eager to try to help jump-start an offense that has mustered only one touchdown in each of the last two games against the Packers and Rams.
"It's real big for us to get in sync with the running game as well as the passing game so we can help the defense out," Forte said. "The defense has been playing lights out. We need to put a lot of points on the board so that they can at least rest a little bit and continue to play good."
Lovie Smith is cautiously optimistic that Forte will be ready to play Monday night, but the Bears coach declined to provide any guarantees Wednesday.
"My glass is always half full," Smith. "We've said he's making progress, which he is, no more than that. I would hold off on ... he has a long ways to go still, but he is making progress and hopefully we can get him out there."
In the spotlight: Bears rookie defensive end Shea McClellin is excited about playing in the first Monday Night Football game of his NFL career.
"I look forward to it," said the first-round draft pick from Boise State. "It's a good place to showcase your skills, not just for me but for the whole team to show what we're about."
McClellin is part of a Bears defense that leads the NFL with 14 sacks, the most they've recorded in the first three games of a season since 1987. The 6-3, 260-pounder registered 11/2 sacks of Packers quarterback Aaron Rodgers in the Bears' Week 2 loss in Green Bay.
"I'm just trying to get better every game, and piece by piece that's what I'm trying to do, just get better at little things, and I think I've done an all right job of that," McClellin said. "I just have to continue to grind and get better."
Good news: Although they're focused on preparing for the Cowboys, Bears coaches and players were happy to hear that a deal between the NFL and the locked out officials appeared to be close.
"We can't wait to get them back when they get back," Smith said. "For us, it's no more than that. We are hopeful each week. It hasn't happened yet.  It's not really an issue with us. Dallas kind of occupies all of our time."
If a deal is reached, the regular officials could be back on the field as soon as this weekend.
"I think it will be good for the league," said tight end Kellen Davis. "We need to get the regular refs back. I'm not going to say too much on it. It's pretty obvious to anybody who watches football what's going on. I'm just going to leave it at that."
"We want those guys out there," said center Roberto Garza. "Those guys have been around this game a long time and know what they're doing, so hopefully the NFL will get that done as soon as possible."