Reviewing the recent interview with Bears general manager Ryan Pace on ChicagoBears.com, here are four things that stood out:
1) The Bears prefer to sign free agents that someone in management or on the coaching staff has previously worked with and knows well.
"When you're signing players who come from clubs that we've been with, it reduces your risk," Pace said.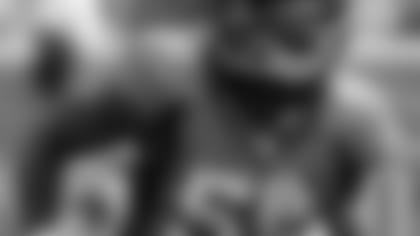 LB Danny Trevathan inked a four-year contract with the Bears on March 9.


A perfect example is inside linebacker Danny Trevathan, who inked a four-year contract with the Bears on March 9, the first day of free agency. Trevathan spent his first three seasons with the Broncos, playing for Bears coach John Fox and several assistants who came with Fox to Chicago.
"I almost look at Trevathan as signing one of our own players because John and his staff drafted him and they know him very well," Pace said.
Since Fox was hired 14 months ago, the Bears have signed a total of six players he coached in Denver. They include receiver Eddie Royal, center Will Montgomery, cornerback Tracy Porter and defensive lineman Mitch Unrein last year, and long-snapper Aaron Brewer this year.
Porter also played for the Saints when Pace worked for New Orleans, as did defensive end Akiem Hicks, who signed with the Bears earlier this month.
The Bears were familiar with last year's prized free agent signee, outside linebacker Pernell McPhee, because director of college scouting Joe Douglas spent the previous four seasons with McPhee in Baltimore with the Ravens.
2) The Bears didn't enter free agency necessarily trying to sign a tackle so they could move Kyle Long back to guard. They were, however, determined to upgrade their offensive line by adding a starter at one of the positions.
"We kind of let it come to us," Pace said. "We looked at guards and tackles. You watch both of those markets in free agency and certain positions just take off. It seems like every position in free agency each year can differ and sometimes [the price to sign a free agent] gets high real quick."
The Bears ultimately signed right tackle Bobby Massie, who spent his first four seasons with the Arizona Cardinals, appearing in 54 games with 46 starts.
Massie's arrival enables the Bears to move Long back to right guard, the position he played his first two years before switching to right tackle in 2015. The 2013 first-round pick from Oregon has been voted to the Pro Bowl in each of his first three NFL seasons.
"It's just putting your best five out there," Pace said. "We've got grades on all these players and we put our five highest graded offensive linemen on the field, and it puts Kyle back at guard where he has more experience.
"But he played well at tackle, too. Again, he's a versatile player. We're excited about Bobby Massie and what he brings to the table, and then it puts Kyle at a position where we know that he's performed at a very high level."
3) Filling needs is a main objective in free agency, but the Bears won't hesitate to pursue a good player at a position that isn't perceived as thin.
While high on young running backs Jeremy Langford and Ka'Deem Carey, the Bears expressed interest in restricted free agent C.J. Anderson, who played for Fox in Denver.
Anderson ultimately signed an offer sheet with the Miami Dolphins that the Broncos matched.
"You don't always go into free agency saying, 'Hey, we're definitely going to attack this position,'" Pace said. "Sometimes there are unique players that come up that you say, 'OK, maybe we have a history with this guy and it's worth it.' I think back to New Orleans. We didn't go into free agency saying we wanted to sign Darren Sproles. It just kind of came to us.
"You've got to be open to that. So when [Anderson] became available, it's something that we entertained. You can never have enough good players. So if you identify a good player, no matter what position, you figure out a way to put him in the mix."
4) Tight end Zach Miller, who re-signed with the Bears March 14, is the exact type of player that Pace wants on the roster in terms of his passion for the game, professionalism and unselfishness.
Miller had a breakout year in 2015 after missing the previous three full seasons due mostly to injuries, and he's in line to be the Bears' No. 1 tight end in 2016.
"When we talk about the kind of teammates that we want here, Zach embodies that to a tee with his work ethic, his preparation and his attitude," Pace said. "He's just a pleasure to have in the building, and it's infectious just being around him.
"In addition to that, his game elevated last year. Credit him for staying healthy and doing all the little things and being proactive with injury prevention. We expect a big season from Zach. He's going to excel in this offense, and we're really excited to have him back."