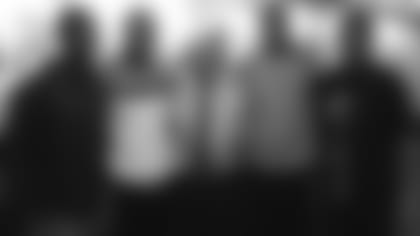 All four Fuller brothers played for Frank Beamer at Virginia Tech: (from left) Kendall, Vincent, Corey and Kyle.
With National Siblings Day on Sunday, it seems appropriate to celebrate the unique accomplishment that Bears cornerback Kyle Fuller and his brothers are about to achieve.
When cornerback Kendall Fuller is selected later this month in the NFL Draft, the Fullers will become only the second family to send four brothers to the NFL.
Vincent Fuller played safety for seven seasons with the Titans (2005-10), Patriots (2011) and Lions (2011). Corey Fuller is entering his fourth year as a receiver with the Lions. And Kyle is beginning his third season with the Bears.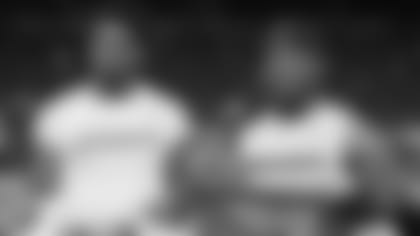 Kyle Fuller (right) exchanges jerseys with his brother Corey after a Bears-Lions game in Detroit.

All four Fuller brothers attended Virginia Tech.
"It's pretty special," Kyle said. "It's not something we think about every day. But it's special because it's the first time there have been four brothers from the same college, so that's pretty unique. It's definitely special and a blessing."
The only family that has had four brothers play in the NFL to this point is the Browners (Jim, Joey, Keith and Ross). The Gronkowskis likely will match the feat this year when Glenn, a draft-eligible Kansas State fullback, follows in the footsteps of brothers Rob, Dan and Chris.
"I definitely know that it's amazing, but I think I'll appreciate it a lot more when I get older," said Kendall, who declared for the draft after his junior season.
Some scouts think that Kendall is the most talented of the Fuller brothers. He was named ACC defensive rookie of the year in 2013 after starting 12 games and intercepting six passes. He was then voted first-team All-ACC in 2014 when he recorded two picks and 15 pass breakups.
Kendall played the first three games last year with a knee injury he sustained in summer camp before opting to undergo season-ending surgery. Continuing to recover, he was unable to participate in drills at the NFL Combine in February and Virginia Tech's Pro Day March 19.
Despite the injury, ESPN's Todd McShay predicts that the Bears will select Kendall in the second round of the draft with the 41st overall pick.
Asked about the possibility of teaming with Kyle in Chicago, Kendall said: "I've thought about it a couple of times and it would definitely be fun."
In his online draft profiles, NFL.com's Lance Zierlein picks one NFL comp for each prospect and compares Kendall to—you guessed it—Kyle.
"We're so much alike," Kendall said. "It's kind of weird how much we're alike. I've seen pictures from when he was at Tech to when I was at Tech and the pictures look identical. Both of us are competitors. Both of us are instinctual, physical, ready to come downhill and make tackles, great ball skills, things like that."
When the Fuller brothers all get together, they talk about football and life—when they're not teasing each other.
"We talk trash all the time," Kendall said. "We have a little thing where all of us will find a hobby that we like, and even if [the others] don't like it, you've got to try to get it just so you can beat them. I picked up bowling and they won't let me hear the end of it if I lose a game. I know Kyle's a big golfer. I haven't been able to pick it up yet, but my oldest brother, Vinny, is at him all the time.
"But anytime we get around each other—which isn't a lot with them having their schedules and me having my schedule—it's definitely fun."
The brothers credit their parents, Vincent and Nina, with helping them all reach the pinnacle of their sport.
"Their influence has always been special," Kendall said. "My father kind of set the foundation for us. He always had us in basketball, football, track, every season. We weren't getting any breaks. And he always pushed us to be the best, not only in our neighborhood or in the state but in the country. I think that kind of stuck with us and drove us to always work on being the best."