John Fox spoke to the media Tuesday after reviewing tape of Sunday's 23-14 season-opening loss to the Texans. Here are seven things we learned from the Bears coach:
(1) The Bears had opportunities to win, but failed to take advantage of those chances. Asked what stood out after he watched the game on tape, Fox said: "Just how really close we are."
Fox cited two plays in particular: With the Bears leading 14-13 midway through the third quarter, Akiem Hicks stripped the ball from Lamar Miller at the Houston 28. But the Texans running back recovered the loose ball. The second play was Nick Novak's 28-yard field goal that fluttered over the cross bar after it was deflected by Sherrick McManis.
(2) Fox agreed with running back Jeremy Langford's assertion after the game that he left yards on the field. The second-year pro rushed for 57 yards and one touchdown on 17 carries.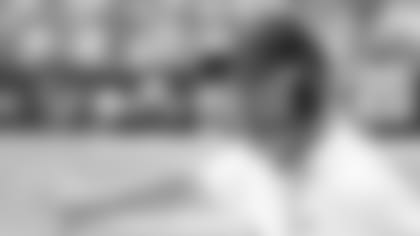 Head Coach John Fox along the sideline in Houston during the Bears season opener.


"We blocked some runs up pretty well," Fox said. "They're not an easy defense to run against. There were some yards there after contact that we can [get] and I'm sure that's what he was referring to."
(3) Fox said the Bears didn't employ a backfield-by-committee approach because they had limited opportunities to run the ball with a time of possession of just 23:41.
"I'm not huge on stats, but their per-carry was 3.7 just like ours," Fox said. "The difference was they ran it 35 [times] and we ran it 20, so the time of possession, that usually plays into that."
(4) Fox lauded left guard Josh Sitton for how he played just seven days after joining the Bears.
"I think he did pretty remarkable to be honest with you, especially on the road, noisy stadium, silent count, all the things that go into playing in an indoor noisy stadium on foreign soil," Fox said. "I thought he did an outstanding job and he'll just get better."
Having competed against Sitton and coached him in a Pro Bowl, Fox was not surprised with Sitton's performance, saying: "He's everything as advertised."
(5) Fox also wasn't surprised with how well Eddie Royal played. After missing the entire preseason with a concussion suffered early in training camp, the veteran receiver caught four passes for 57 yards, including a 19-yard touchdown, and had a 31-yard punt return.
"We know Eddie pretty well," Fox said. "We're better with him healthy. Now it's just keeping him healthy. It didn't really surprise me. I've seen him play before. Jay [Cutler] has seen him play and played with him before. We were pretty much expecting that."
(6) The Bears likely will focus on pass protection this week in practice after the Texans were credited with five sacks and 13 hits on Cutler.
"We got our quarterback hit more than we'd like," Fox said. "We need to clean that up and I think we will."
(7) Fox was not displeased with the Bears pass rush, which generated two sacks and eight hits on Texans quarterback Brock Osweiler.
"They were going to not do too much in a first game with a new quarterback," Fox said. "I thought they spit the ball out pretty quickly. A couple plays that he scrambled on, our rush lanes weren't quite as well-schooled as we needed. But again, pass rush is not all about just sacks. It's kind of a coordinated effort between that and your coverage and all-in-all I didn't think [the coverage] was as good as it needed to be."
Fox did, however, lament the one that got away. On the game's opening possession, Osweiler escaped from the grasp of defensive end Mitch Unrein and scrambled for 15 yards.
"We missed the sack and it ended up being the longest rush of the day," Fox said. "I think [they are] things that we can clean up. We created it, we just didn't finish it, much like our whole outing on Sunday."