One day after the Bears fell to the Colts 29-23 in Indianapolis, coach John Fox fielded a number of questions about the team's quarterback situation during his Monday press conference.
Brian Hoyer passed for 397 yards Sunday—the fifth most in a game in franchise history and the most ever by a Bears quarterback without an interception. In the process, he became the first player in team history to throw for over 300 yards in three straight games without a pick.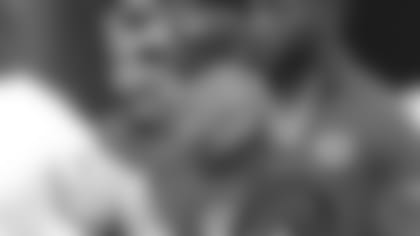 Head Coach John Fox during the Bears game against the Colts on Sunday.


As you'd expect, reporters wondered whether Hoyer would remain the team's starter when Jay Cutler returns from a sprained right thumb that has sidelined him since he suffered the injury Sept. 19 late in a Week 2 loss to the Eagles at Soldier Field.
"Right now, [Cutler being healthy is] not a reality, so I don't like to get too much into that," Fox said. "I think Brian's played well. Unfortunately, we didn't play quite well enough [Sunday]. If we score on that last drive, we win the game. But it did not materialize."
Trailing by six points with 1:02 remaining, the Bears turned the ball over on downs when Hoyer threw an incomplete pass intended for Cameron Meredith on fourth-and-eight from the Colts' 28. It appeared that Alshon Jeffery was open on the left side of the field after beating single coverage by cornerback Vontae Davis. But Hoyer didn't look in Jeffery's direction.
"It could have been an option," Fox said. "I don't know that you can be super critical. When you're out there playing quarterback it looks a little different than when you're up in the press box having hot dogs."
Fox is comfortable with how the Bears have handled their quarterback situation and stressed that there's no question Hoyer is the starter with Cutler still unable to play.
"I think we're managing it well," Fox said. "It kind of is what it is and everybody on the team knows that Brian Hoyer is the quarterback right now and that's where our focus is going. I think Jay understands, too. Moving forward, I can't predict the future, otherwise I'd be in a different line of work. But I think everybody's handling it professionally."
The Bears have not provided a timetable for Cutler's return. Asked Monday whether the veteran quarterback would be healthy by the bye week in early November, Fox said: "It's like what the weather is going to be tomorrow; I don't know. We just take it a day at a time and, like I said, we'll keep you guys up to speed with what's going on. Right now he's injured."