Bears coach John Fox feels that Dowell Loggains did an excellent job coaching Jay Cutler last season and is confident the two will build on their success in 2016.
In Loggains' first year as Bears quarterbacks coach in 2015, Cutler posted a career-high 92.3 passer rating and reduced his interceptions from 18 in 2014 to 11. Loggains has since been promoted to offensive coordinator, replacing the departed Adam Gase.
"I thought [Loggains] did a tremendous job," Fox said. "I saw tremendous growth in Jay from one year ago. I can't speak to all the other years, but just last year I saw great growth in him and that was with a pretty depleted group of receivers he did that with."
The Bears' top four receivers entering training camp last year combined to sit out 35 of 64 games. Alshon Jeffery was limited to nine games due to injuries to his calf, groin, hamstring and shoulder. First-round pick Kevin White was sidelined the entire season with a stress fracture in his shin. And Eddie Royal and Marquess Wilson missed significant time as well.
Loggains is ecstatic to have all of the receivers healthy again and is especially eager to see Jeffery and White line up together. Jeffery has not been participating in the team's voluntary offseason program, instead working out on his own in Florida.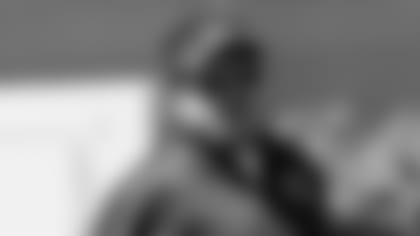 Dowell Loggains was the Bears quarterbacks coach in 2015 and has since been promoted to offensive coordinator.


"We're excited about those two," Loggains said. "I can't want to get them both on the field at the same time, something we've never seen in Chicago."
Jeffery has signed the franchise tender he received from the Bears, guaranteeing him a contract for the 2016 season that's equal to the average of the NFL's five highest paid receivers. The two sides have until July 15 to reach a long-term agreement.
Jeffery was selected by the Bears in the second round of the 2012 draft. He was voted to the Pro Bowl in 2013 after catching 89 passes for 1,421 yards and seven touchdowns and followed with 85 receptions for 1,133 yards and 10 TDs in 2014.
When healthy enough to play last season, the South Carolina product showed his game-breaking ability, posting four 100-yard games, and tying a team record with three straight 100-yard outings.
Jeffery ranks 10th on the Bears' all-time receiving list in catches (252), eighth in yards (3,728) and 11th in touchdowns (24). His 3,728 yards are the most in franchise history by any player in his first four seasons with the Bears.
The Bears can't wait to see a healthy White back on the field in 2016. The 6-3, 217-pounder blossomed at West Virginia in 2014, catching 109 passes for 1,447 yards and 10 touchdowns. He opened the season with a school-record seven straight 100-yard games.
Loggains, meanwhile, joined the Bears after serving as Browns quarterbacks coach in 2014. He spent the prior eight seasons with the Titans as a coaching administrative assistant (2006-07), offensive quality control coach (2008-09) and quarterbacks coach (2010-12).
Loggains was elevated to offensive coordinator for the final five games in 2012 and served in that role for the entire 2013 season.
"Dowell has done it in the league," Fox said. "He is a sharp coach. He's done it before with the quarterbacks room as well as with the rest of the offensive players."
Loggains understands the importance of having an experienced backup quarterback, a valuable commodity the Bears added after the draft when they signed Brian Hoyer.
Hoyer, 30, has played eight NFL seasons with the Patriots (2009-11), Steelers (2012), Cardinals (2012), Browns (2013-14) and Texans (2015). He has appeared in 43 games with 26 starts, completing 58.1 percent of his passes for 7,163 yards with 38 touchdowns, 26 interceptions and an 82.2 passer rating.
Hoyer had his best season as a pro last year with the Texans, connecting on 60.7 percent of his passes for 2,606 yards with 19 TDs, seven interceptions and a 91.4 passer rating while playing in 11 games with nine starts.
"He gives you an established backup, a veteran guy, Loggains said. "There's competition and we haven't set a depth chart. But he gives us a guy who has played in the league and has a winning record as a starter, so it just creates competition."