MOBILE, Ala. - New Bears offensive line coach Jeremiah Washburn will never forget his first season in the NFL, working under Bears coach John Fox with the Panthers in 2002.
Hired as an operations intern during Fox's first season as Carolina's coach, Washburn watched Fox lead a team that had finished the previous season with a 1-15 record improve to 7-9 in 2002 and then reach the Super Bowl in 2003.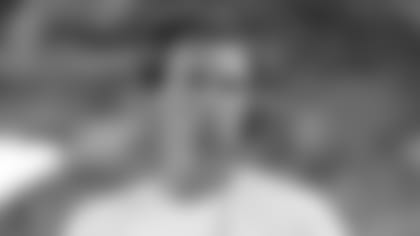 New Bears offensive line coach Jeremiah Washburn first worked with head coach John Fox in Carolina.


"Coach Fox left a huge impression on me at an early age," Washburn said. "It was a tough situation he came into. They were 1-15 the previous year. He ran a really disciplined camp, a tough camp, and the way he was with that team and how he flipped the culture in Carolina, it was really a big deal for me as a young guy in this league just to see how it's done."
Washburn spent only one season on Fox's staff in Carolina, leaving to join the Ravens, where he worked as a player personnel assistant in 2003-04 and later as an area scout from 2005-08.
Washburn then went back into coaching, spending seven seasons with the Lions as an offensive assistant (2009-12) and offensive line coach (2013-15). This past season he worked as an assistant offensive line coach on Adam Gase's staff with the Dolphins.
"He brings a good energy and a really good knowledge of the game," Fox said. "He's [done] the personnel side, so he's an excellent evaluator. That's part of being a good coach, too. You've got to pick your starting lineup. You've got to be able to pick your football team or be part of the process of picking the football team. I think he brings a really good blend."
Hard decision: Washburn replaces veteran assistant Dave Magazu, who was let go after spending the past 14 seasons as a position coach under Fox with the Panthers (2003-10), Broncos (2011-14) and Bears (2015-16).
"It's always hard," Fox said. "Whether it's players or coaches, you spend a lot of time with people. It's a relationship business. Those things are never easy. But when you sit in the seat that I sit in or [general manager] Ryan [Pace] sits in, there are hard decisions. Easy is not always right.
"It wasn't like [the offensive line] was a real problem position. Evaluating offensive line play on a season is per-rush average and per-pass sacks. So there were some good things, but at the end of the day it was time for a change and we did it."
One more opening: In addition to Washburn, the Bears have also hired Curtis Modkins as running backs coach and Roy Anderson as assistant defensive backs coach. All three of the new assistants have joined the rest of Fox's staff at the Senior Bowl to coach the North team.
The one remaining vacancy is outside linebackers coach. Until a replacement for Clint Hurtt is hired, the Bears will continue to lean on defensive coordinator Vic Fangio to coach the position.
"Vic's kind of the outside linebacker coach anyway and even was before," Fox said. "It's a position that's really handled by Vic. We're right now even coaching without that position coach, so we'll still look at it. We're not going to lose the body or the manpower. We'll hire somebody, but we're not in a big rush.
"[Fangio] had the responsibility over that position even the last two years. There's not going to be a real deviation from what we've done."
Good experience: Getting to work closely with some of the top prospects in this year's draft isn't the only benefit for the Bears at the Senior Bowl. It also allows the new coaches to get a jump-start in meshing with the rest of the staff.
"Any time you can coach, it's like playing: the more you do it, the better you get," Fox said. "It's good experience for those guys and good practice."
Washburn has enjoyed working with the rest of the Bears staff at the Senior Bowl.
"With Modkins and myself working with [offensive coordinator] Dowell [Loggains] and kind of learning what we like and how we work together, I think it's going to be a big deal, even just the way coach Fox structures practice," Washburn said. "It's a good deal for us."