When the Bears signed outside linebacker Pernell McPhee in free agency in March, they envisioned a player who would bring toughness, leadership and attitude to their defense.
Four games into the season, McPhee has not disappointed.
"He's been as advertised," said coach John Fox. "[General manager] Ryan Pace and his department did a good job of identifying him. Our coaches did a good job of evaluating and researching. There's a temperament he brings that's invaluable."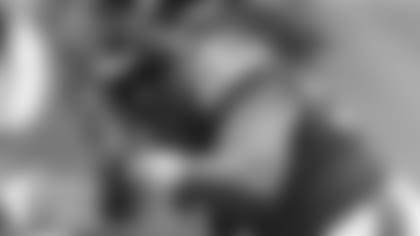 Outside linebacker Pernell McPhee has recorded 28 tackles and two sacks.


McPhee has emerged as a leader on defense who has recorded 28 tackles, three tackles-for-loss, two sacks and one interception. The 6-3, 275-pounder is one of only three NFL players with at least two sacks and one interception and he's the first Bears player to accomplish the feat in the first four games of a season since Lance Briggs in 2005.
McPhee generated two huge plays in last Sunday's win over the Raiders, recording his first career interception and dropping Roy Helu Jr. for a one-yard loss on third-and-one late in the game. Oakland followed by kicking the go-ahead field goal with 2:05 remaining, but McPhee's stop gave the Bears enough time to set up Robbie Gould's game-winning field goal.
"He played physical against the run, which is up his alley," Fangio said. "He did a good job in pass rush for the most part. He just played the way he's capable of playing and what we thought we'd get when we signed him."
Middle men: Though Shea McClellin and Christian Jones have yet to produce any splash plays this season, Fangio is happy with the strides the starting inside linebackers are taking.
McClellin leads the Bears with 37 tackles, while Jones is tied for fourth with 28 stops. Neither player has recorded a sack, interception, forced fumble or fumble recovery.
"I have been pleased with both of their progress," Fangio said. "Their progress is going to be slow and steady. I have been pleased with the way they are playing and they are getting slowly and steadily better."
On the mend: The Bears hope that defensive lineman Jeremiah Ratliff will be able to make his season debut Sunday when they visit the Chiefs in Kansas City.
Recovering from an ankle injury that forced him to miss last weekend's win over the Raiders, the 11-year veteran practiced on a limited basis Wednesday. Ratliff was suspended the first three games of the season by the NFL, but he wouldn't have been able to play in any of those contests due to the injury he sustained in the third preseason game.
"He can have a good impact on the game," Fangio said. "Anytime you can add a defensive lineman with his ability and his passion for the game, you're going to be better."
Vocal commander: With veteran Antrel Rolle sidelined by an ankle injury he suffered against the Raiders, rookie Adrian Amos becomes the only healthy safety who's been with the Bears continually since the offseason program started in April.
Jonathan Anderson and Chris Prosinski were both claimed in recent weeks, while Demontre Hurst was re-signed Wednesday. Hurst appeared in the season opener, was waived Sept. 19 and then signed to the practice squad Sept. 22.
"[Amos] is the most experienced guy back there," Fangio said. "When I say experienced, even though he's a rookie, he's had the most reps within our system in our short time here. He's become the vocal commander back there."
Options aplenty: It's unclear how Hurst will be utilized Sunday in Kansas City, but he provides several options for Fangio.
"He's got good football savviness," said the Bears defensive coordinator. "He understands the game. He's versatile. He can play nickel. He can play safety. He can play corner.
"When you're picking your team and you're down to the eighth, ninth and 10th DB, they've got to have some versatility. So when you have games like what happened on Sunday, you have people that you can put in there, that have been through it with you. The more guys that you have at the bottom of your secondary roster that are versatile, the better off you'll be."